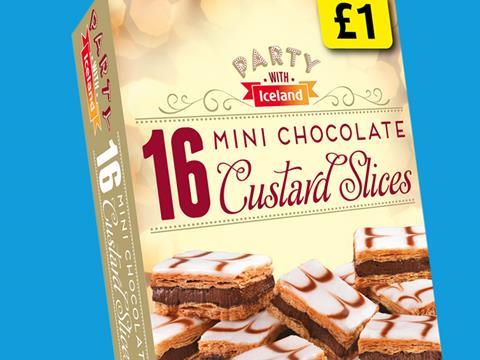 Who: Iceland Foods
What: Mini Chocolate Custard Slices
Where: Frozen desserts
When: Launched October 2014
How much: £1/220g
Why: This pack of 16 Mini Chocolate Custard Slices was launched late last year as part of Iceland's Party range in time for the festive season. The pastry slices have a chocolate-flavoured custard filling, are topped with white fondant icing and a cocoa feathering decoration. Sold ­frozen, they can be defrosted in just 30 minutes.
Consumer verdict: This was considered an attractive proposition pre trial, especially when considering the competitive £1 price point. However some testers expected quality issues, taking the 'you get what you pay for' approach. Though some described them as 'soggy' with 'chewy pastry', an almost equal number appreciated the 'smooth, creamy custard' and attractive appearance. Regionally, Northerners were more receptive and gave the slices an overall score of 45 compared with the 32 they achieved down South - and the product achieved an average score of 39, which was slightly above the norm for the category.
Pre-trial purchase: 43%
Post-trial purchase: 54%
Better than what's out there: 43%
New and different: 67%
Overall score: 39/50

What is Fast Foodfax?
It is a subscriber service that has been running for more than 30 years, offering consumer assessments of new products and allowing comparisons with more than 17,000 products from our database. It is objective, impartial and totally independent, and each product is assessed using original consumer feedback from respondents across the UK. See here for further information.
Fast Foodfax is prepared by Cambridge Market Research , which works closely with The Grocer magazine on a variety of projects including the consumer judging element of the The Grocer's Own-label Food & Drink Awards and New Product Awards.
Tel. 01223 492 050 Email: Info@CambridgeMR.com