Kiddyum Fish & Veg Pie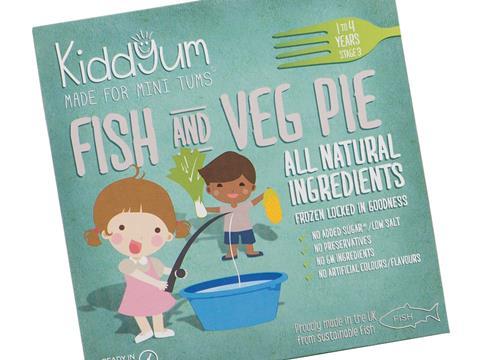 Who: Kiddyum
What: Fish and Veg Pie

Where: Frozen ready meals

When: August 2015

How much: Rsp: £2.20/200g

Why: This range of frozen meals for babies and young children launched into Sainsbury's this summer after securing a listing through the retailer's Pitch-Up With Sainsbury's sourcing initiative. The meals are made with British meat and dairy and MSC-approved fish, and contain no added salt or sugar, preservatives, or artificial colours or flavours.

Consumer verdict: The convenience of being frozen and prepared in the microwave boosted pre-trial perceptions of this product. Tested among adults and juniors, this ready meal achieved a near norm rating overall, with acknowledgement that it offered a healthier low salt and sugar option. As with many other similar meals, the juniors rated the product higher than the adults, with older testers commenting on the "bland" taste, while younger testers liked the "fluffy potatoes" and "healthy fish". One third of respondents felt this was better than the competition, and nearly a fifth claimed they would buy it at least fortnightly.

Pre-trial purchase: 35%

Post-trial purchase: 37%

Better than what's out there: 35%

New and different: 46%

Overall score: 32/50
The Grocer has been asked by Kiddyum to point out that this product was not tested on its target audience of one to four-year-old children, as the standard procedure for the Foodfax testing service used in the Acid Tests is for questionnaires to be self-completed by the respondents. In the case of the Kiddyum Fish & Veg pie, the junior panel that tested the product was aged from five to 11 years.
What is Fast Foodfax?
It is a subscriber service that has been running for more than 30 years, offering consumer assessments of new products and allowing comparisons with more than 17,000 products from our database. It is objective, impartial and totally independent, and each product is assessed using original consumer feedback from respondents across the UK. See here for further information. Fast Foodfax is prepared by Cambridge Market Research, which works closely with The Grocer magazine on a variety of projects including the consumer judging element of the The Grocer's Own-label Food & Drink Awards and New Product Awards.
Tel. 01223 492 050 Email: Info@CambridgeMR.com