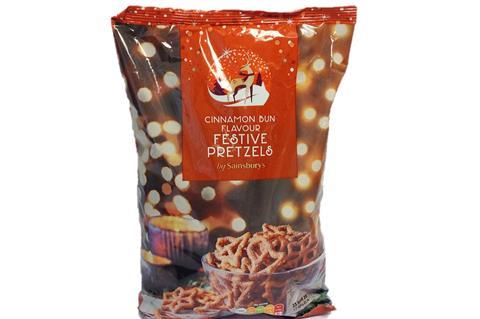 Who: Sainsbury's

What: Cinnamon Bun Flavour Festive Pretzels

Where: Bagged snacks

How much: £1.50/300g

Why: A limited-edition play on pretzels for the festive season: Sainsbury's latest NPD contains star, tree and bell-shaped snacks. Per 100g, the pretzels contains 427 calories, 9.8g fat, 5.8g sugar, 1.67g salt and 9g protein.

Consumer verdict: Nearly half of our shoppers gave the pretzels four stars, describing them as "very nice" and tasting "exactly like cinnamon buns". They said the snacks were "very tasty", "smell delicious", had a "lovely texture" and were sold at a "good price". But praise wasn't unanimous: a few shoppers were put off by the flavour, with one describing it as "really weird". Another said they were "not keen" but the texture was "good". Seventy-one per cent of shoppers said the pretzels would be good to share with friends or family, while 65% said they were ideal for special occasions.

Pre-trial purchase: 56%

Post-trial purchase: 71%

Better than what's out there: 67%

Exciting new idea: 67%

Overall score: 46/50
All own-label lines reviewed for Acid Test can apply for accreditation in The Grocer Own Label Accreditation Scheme.