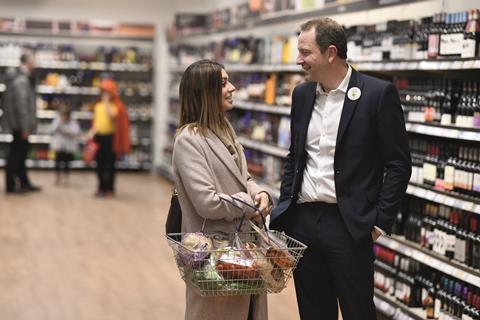 Any look back at Tesco turning 100 years will feature plenty of standout moments, but when Jason Tarry, Tesco's UK CEO, joined the business in 1990 it was a pivotal moment, the start of perhaps the defining decade in Tesco's rich history as it moved towards the strong position it now enjoys.
"We were number two in the market, but actually we were closer to number three. There was a resurgent Safeway, believe it or not. And Sainsbury's was at number one. But over the course of the next decade, all of that changed."
No doubt about that. Tesco hadn't stopped growing since Jack Cohen first stocked a market stall in 1919, but the 1990s was when Tesco hit turbo. All the more remarkable was that the country was in a sorry state of recession at the time.
"Lord MacLaurin was in charge and it was decided that, even during a recessionary period, we should focus on expansion of what we would call our edge-of-town superstore format. So while everyone else was retrenching, we were expanding. And that put us on a great platform for growth."
Meanwhile, waiting in the wings was "a young marketing director, who was driving a lot of the changes and innovations in the business called Terry Leahy. Terry drove great innovations from his role in marketing, whether that was the launch of Value lines to combat the threat of Kwik-Save – nothing is new in retail, the discounters were on the rise in the early 1990s – or Clubcard, which gave us an immediate boost. We saw a dramatic increase in sales straight away".
Clubcard also gave a renewed impetus to Tesco as a customer champion and to its enduring Every Little Helps strapline, which was "based on responding to customer concerns, like 'the wheels on my trolley wobble', 'I can't park properly', 'I can't change the baby'.
"All those things would feed back to us. And through Every Little Helps we ended up making quite a lot of changes to our proposition that were customer led, to try and make the experience better. We introduced our 'One in Front' commitment of opening another checkout, 24-hour opening, baby changing facilities, we upgraded our car parks, and more".
"While everyone else was retrenching, we were expanding. And that put us on a great platform for growth"
And in the background there was always expansion – in every direction. "With 'edge-of-town' retail expansion "Tesco had a great platform for growth, we were opening a good number of stores," he says. "And 24-hour opening also made a big difference and gave us a real boost in sales."
Whatever the reasons, and you can take your pick, it was a dizzying rush of radical retailing delivered by incredibly talented people.
Lord MacLaurin, himself a Tesco lifer who was personally mentored by Tesco founder Jack Cohen, was in charge when Tarry joined the business. "He was a very visible leader, loved by colleagues, brilliant in the shops," says Tarry.
But in his nearly 30-year career with Tesco, Tarry has worked with a whole series of retail leaders – as Tarry puts it, "there are plenty of people who've gone on to have very successful careers that worked at Tesco for a long time, and did amazing things."
There are too many for Tarry to list. But crucially, they all gave Tesco an invaluable sense of momentum. "One of the things I've learned over the years in retail is that momentum is really important," says Tarry.
That's a lesson that Tarry has applied throughout his own career, and in particular to his role as UK CEO. He's been in the job for a year, and in that time has led no shortage of changes and improvements - from the complete re-launch of 10,000 Own Brand products, which Tarry started in his previous role as Chief Product Officer, through to the launch of 'Jack's' and overseeing Tesco's best Christmas performance in a decade.
But there's no sign of things slowing down, says Tarry. "We still have plenty of opportunity going forward in terms of being able to do a better job and continue the growth with the business. I think we're really well placed at this moment in time. Tesco has had a great 100 years, but there is lots of opportunity ahead. And if we keep focusing on our customers, we will be fine."
"If we keep focusing on our customers, we will be here for another 100 years"
Tarry leads a team of some 300,000 colleagues, and he knows he can rely on them to keep that customer focus. It's that same team that Tarry credits for the transformation in Tesco's fortunes, and he's in no doubt that it's their talent and experience which has driven the turnaround. As he puts it, "when we are at our best, we're unbeatable". And while there's a huge amount going on to celebrate Tesco's 100th birthday, his rallying call to colleagues has been a simple one: "let's give Tesco customers the best shopping experience of our first 100 years, to ensure an ideal start to the next 100 years."
Running a business the size of Tesco UK is no small responsibility, but for Tarry the biggest motivation is the people he works with, and his pride is clear. "Tesco has always been a place where people, from whatever walk of life or from whatever background, can make a real difference and do really well. We have an amazing set of colleagues and I'm very, very privileged to be the UK CEO. We are the biggest private sector employer across a cross section of society. There is no type of person that we wouldn't have working for us, so you end up with a lot of people doing a lot of great work at Tesco. Our group chief operating officer started at Tesco at 16, our chief people officer started at 21. We have people who are brilliant and focused on doing a great job every day. And if we keep focusing on our customers, we will be here for another 100 years."
Celebrating 100 years of Tesco
1

2

3

4

Currently reading

Interview: Jason Tarry, Tesco UK CEO

5

6

7