As a nation we've always relied on our grocers and supermarkets. Until recently they remained unsung heroes, quietly and consistently feeding the population, largely taken for granted by the majority. That all changed this year when supermarkets emerged steadfast in their mission to provide necessities to a pandemic stricken country.
As an industry, grocery stepped up in a big way, pivoting to cater to the specific demands at just a moment's notice.
A key shift took place within the industry as millions of people sought to buy their essentials online in a bid to avoid venturing out to supermarkets, many out of the necessity to shelter in place. From February to March 2020, grocery delivery apps saw a 218% surge in downloads [1] and by the end of April 2020, the e-commerce share was 12.4% of the total grocery market [2].
The industry did not disappoint, altering their outputs to meet the new demand for contactless grocery deliveries. For example, in March national chain Tesco increased its online delivery slots to a staggering 1.5 million, up on the previous capacity of 600,000. Similarly, Sainsbury's upped its own online delivery capacity by more than 75% as Asda, Morrisons, Iceland and Waitrose did the same. In addition to increasing their e-commerce capabilities, supermarkets kept shelves stocked after mass stockpiling caused unprecedented demand.
Despite daunting odds, our supermarkets prevailed and continue to weather the storm. However, this story isn't simply one of isolated heroism but rather inspiring collaboration as many industries worked together behind the scenes to deliver essentials. One such industry was the intralogistics sector.
This past spring and summer saw impressive resilience from grocers, but such resilience was only made possible by intralogistics technology, especially when it came to ensuring the grocer warehouses and distribution centres ran as efficiently as possible.
Adapting to the new normal
Grocers have historically relied on manual labour to temporarily address issues of peak demand in fulfilment centres. As the Covid-19 pandemic began, grocery companies hired thousands of people to address the peaks as demand spiked, but quickly found that this wasn't enough to manage the surge in orders nor was it practical given the specific challenges such as the need to limit social interaction in distribution centres and the requirement to deep-clean facilities between shifts.
Automation technology such as automated guided vehicles (AGVs) were invaluable in ensuring warehouses were able to run smoothly without putting employees at risk. AGVs can move items around a warehouse without manual intervention whilst also making improvements in shipping speed and accuracy. Especially important is the ease with which this type of robotic technology can be deployed within existing delivery and storage systems. They are also vital to protecting workplace safety, ensuring human-to-human interaction is minimal in the warehouse environment.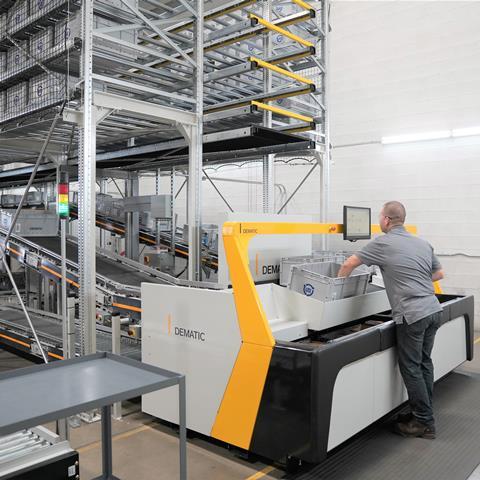 Dematic's recent contract win with Reitan Distribution in Denmark is an excellent example of just that. Reitan Distribution supplies groceries to more than 900 stores throughout Denmark, including more than 340 of the chain's own REMA 1,000 stores and convenience stores including 7-Eleven. Approximately 130,000 cases will be picked, packed and distributed every day from the new system with robotic systems handling a significant proportion of daily operations.
Not only does automation serve an important function in keeping workers safe, it can also greatly increase warehouse capacity when it is needed most. For example, the Dematic Micro-Fulfilment solution, provides compact fast and flexible order processing using an engine designed to add capacity and flexibility to the supply chain, enabling retailers to fulfil online orders from existing retail store space.
Looking to the future
The Covid-19 pandemic may be an unprecedented challenge, but it certainly wouldn't be wise to consider it as a one-off disruption to grocery supply chains. Of course, online product fulfilment is a fundamental part of the future of grocery, but more important is the flexibility it provides. As the pandemic has proven, grocers need to be able to handle dramatic fluctuations in demand at a moment's notice by their supply chains adapting quickly.
Warehouse management software (WMS) is one way to stay ahead. Sophisticated WMS systems such as those provided by Dematic can bring the entire intralogistics supply chain — fulfilment, operations, maintenance and analytics — into one comprehensive ecosystem, helping to quickly and effectively respond to consumer demand.
This was one of the reasons why Dematic recently acquired Digital Applications International Limited (DAI), a UK-based software company specialised in logistics automation solutions — the software equips retailers with the data and insights they need to forecast changes in the market and adapt to shifting demand.
Whilst the past year has been one of the most challenging to date for the grocery industry, from adversity grows innovation. Already we have seen the emergence of creative solutions to solve complex problems, a true testament to the collaboration between technology providers and grocers themselves. This creativity will need to continue into 2021 as the landscape continues to adapt to the Covid-19 crisis and eventually recover from it
Automation will play a key role in the future of the grocery industry, helping keep employees safe, and improving working conditions whilst increasing warehouse capacity.
With a 200-year legacy in supply chain technology, Dematic has witnessed many seminal moments but none more significant than this. Going forward, flexibility will be paramount, and automation is the best way to achieve this.
SOURCES
[1] https://blog.apptopia.com/instacart-and-grocery-delivery-apps-set-consecutive-days-of-record-downloads
[2] https://www.kantarworldpanel.com/global/News/How-COVID-19-transformed-the-worlds-shopping-habits