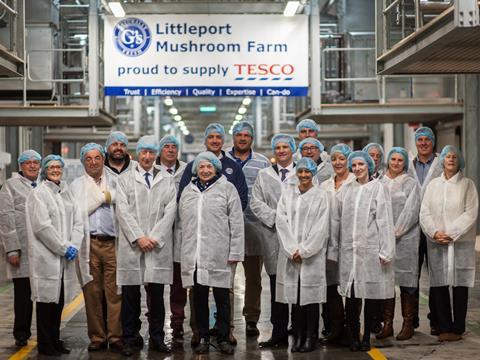 Veg supplier G's Growers has opened a new multimillion-pound mushroom production facility in Cambridgeshire, creating 300 new full-time jobs.

The Littleport Mushroom Farm was built in partnership with Tesco at G's May Farm site, and is the second-largest of its type in the UK. It will produce about 165 tonnes of mushrooms every week for the retailer, and help it increase the availability of UK-grown fungi and shift supply away from European farms.

The site allows for the growing, harvesting and packing of mushrooms, and consists of 48 individually climatically controlled growing tunnels alongside a modern chilling and packing area, which is oversized for possible future expansion.

Production will be constant throughout the year, and the facility is powered by an anaerobic digestion site partly fed by waste vegetables.

"We have worked with G's for over 35 years and throughout this time we have been striving to provide customers with the best possible quality British produce, at the best possible price," said Tesco commercial director for fresh food and commodities Matt Simister.

"This new facility is a fantastic example of how by building and maintaining strong, open and honest partnerships with our growers, we can deliver and innovate for customers and help to create a sustainable future for British agriculture."

G's Growers MD Peter Sargeant described the evolution of May Farm as a "fine example" of positive collaboration between supplier and retailer.

"The outcome is the creation of a facility that delivers long-term sustainability within mushroom growing, whilst integrating with the wider agricultural activities of G's Growers in the East Anglia region," he added.