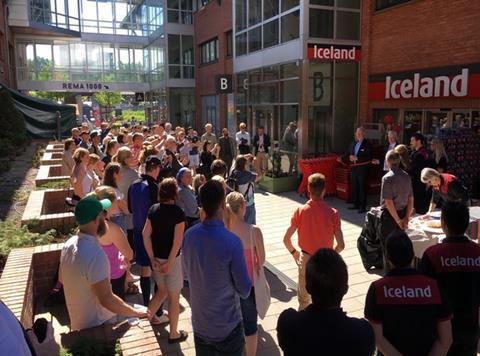 Iceland has opened its first Norwegian food store in Asker, Greater Oslo, with a second set to open in Larvik, Vestfold county in June.

The retailer is also seeking further sites for stores across the country.

Iceland claimed the Asker branch, operated by its new franchise partner Ice Nordic, opened on Wednesday to an "enthusiastic reception" from customers.

The 3,000 sq ft store features 33 freezer cabinets stocking a variety of Iceland's own-label frozen food. It also sells Iceland own-label groceries and a selection of locally produced products.

Pizzas, ice cream, Mumbai Street Co Indian food and the retailer's Luxury Raspberry and Pistachio Layered Pavlova have been among its best sellers at the store so far.

"It was great to see the new store receive such a hugely enthusiastic response, with sales on the first day far exceeding expectations," said Ewan McMahon, Iceland Group's operations director. "It was particularly pleasing to see so many young people in the store, and to experience everyone's very positive reaction to our iconic Iceland frozen food range."

McMahon called Iceland's expansion into Norway "exciting" because although it has operated a franchised store model for very many years, most of its existing overseas franchises are in areas with substantial British expatriate communities, such as Portugal and Spain.

"There is no question that in Norway we are appealing overwhelmingly to Norwegians - and we are really delighted they have given us such an outstanding welcome," he said. "Our new franchise partner has ambitious plans for expansion and we look forward to a long and profitable relationship with them."

Iceland currently operates in more than 40 countries.