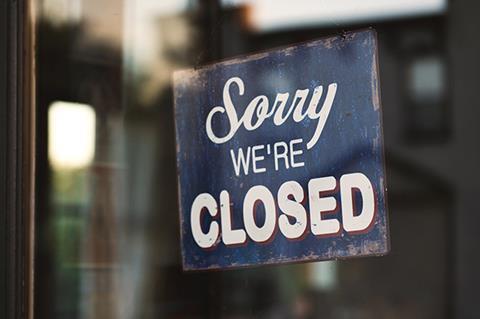 Chancellor Rishi Sunak has announced new one-off grants of up to £9,000 for retail, hospitality and leisure businesses forced to close by coronavirus restrictions.
The grants will be available per property, with the amount dependant on the rateable value under the business rates system. A rateable value of up to £15,000 will qualify for a £4,000 grant, while a rateable value of between £15,000 and £51,000 will qualify for £6,000. The maximum £9,000 will be available for properties with a rateable value of over £51,000.
It follows prime minister Boris Johnson's announcement last night of a new lockdown in England from midnight tonight until at least the February school half term. Non-essential shops across the country must close, along with hospitality and leisure businesses.
The grants are expected to benefit over 600,000 business properties and come to £4bn in total across all UK nations. Devolved governments will get additional funding from Westminster, with £375m going to Scotland, £227m to Wales and £127m to Northern Ireland.
Sunak also today announced a further £594m for local authorities and devolved administrations to support other businesses affected by the restrictions but not not eligible for the grants.
"The new strain of the virus presents us all with a huge challenge – and whilst the vaccine is being rolled out, we have needed to tighten restrictions further," he said.
"Throughout the pandemic we've taken swift action to protect lives and livelihoods and today we're announcing a further cash injection to support businesses and jobs until the spring.
"This will help businesses to get through the months ahead – and crucially it will help sustain jobs, so workers can be ready to return when they are able to reopen."
Figures from real estate advisor Altus Group suggest 400,000 non-essential shops in England will be forced to close in the new lockdown.
Both the BRC and British Property Federation welcomed the funding while warning it may not be enough to save businesses. They urged the government to extend business rates relief beyond the end of March.
"The announcement of additional grant funds is welcome but we need to be assured that they are not constrained by state aid requirements if they are to provide the level of support urgently needed by those who have been forced to close for a third time," said BRC director of business & regulation, Tom Ironside.
"Furthermore, with retailers losing £2bn per week, such grants are unlikely to be enough to protect otherwise viable firms from going bust, costing shops and jobs. The key policy government should implement is to extend business rates relief from April for those hardest hit by repeated lockdowns."
BPF director of finance policy Ion Fletcher said: "A return to full rates will be unaffordable for many and will lead to closures, so we would encourage the government to commit to further rates support for businesses that continue to be affected by Covid-19."