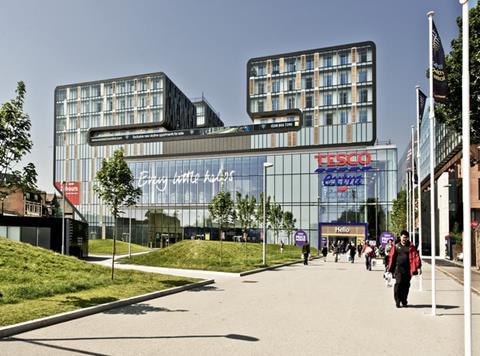 Grocery is sitting under a goldmine. Untapped air floating on the London skyline is worth billions to supermarkets, say experts, with the potential for hundreds of thousands of new homes to be built above their stores.

Conservative estimates predict enough spare air above retail in the capital to build a minimum of 150,000 new homes - nearly 25% of the 650,000 mayor Sadiq Khan has said the city needs over the next 10 years to address its worsening housing shortage.

And all this untapped potential has property teams at some of the major grocers turning their strategies to the sky.

Only in November, Tesco CEO Dave Lewis told shareholders that maximising more value from its 3,400-store estate had become a core strategic aim at the multiple, with plans to save £176m in rent each year and repurpose 1.7 million sq ft of space, as well as releasing new value from existing sites to the tune of half a billion pounds.

A big chunk of that is set to come from turning empty air into new homes, with developments under way at Hackney and 'air rights' sites already completed in Welwyn and Streatham. The grocer has reportedly identified 20 prospective sites in London where building up would create 9,000 new homes.

"In the retail trade that doesn't go unnoticed," says Val Bagnall, at specialist 'air rights' developers Apex Airspace, who says his team are in conversations with "four of the top six grocers" as rivals look to "copycat" the highly publicised Tesco strategy.

Meanwhile, Sainsbury's says it is "developing plans" in Whitechapel, Ilford and New Cross Gate with the potential to create 2,500 homes above stores as it too aims to "improve the efficiency" of its £11bn property estate. And as Aldi and Lidl rapidly expand across the UK (building close to 100 stores between them in 2017) they too are seeking out creative ways to afford high-value sites both inside and outside London, with mixed-use developments under way in Epsom, Birmingham and Leicester.
"People don't think their roof has value, but there's an appetite in government to give greater freedoms to build on top of retail"
The potential is huge, believes Bagnall. "We've identified nearly 3,500 acres of land that is developable sitting on the roofs of London alone, and that's excluding retail, which could add another 25%," he adds. "It's a sleeping market. People don't think their roof has a value, in fact in a lot of cases they see it as a liability, but there's an appetite in government to give greater freedoms to build on top of retail and that is the direction we're looking in."

Building homes above shops isn't a new concept of course, particularly in London where space is scarce. So why this sudden momentum? How lucrative can it be? And how are diminishing property teams at the major multiples able to manage the projects?

Interest in mixed-use schemes in London, many with homes above stores, has been building among the major grocers for more than 10 years, says Richard Kitching, development director at property consultants GL Hearn. Even in the height of the space race "planners would never accept that having a single-storey supermarket with a sea of parking, which was the historical approach to supermarkets in the rest of country, was acceptable in London and so more retailers pushed to put residential above their stores."

It was also a question of affordability. "They needed to do it for the land value. It's so high in London that supermarkets could only afford certain sites by putting valuable residential space above it, and that way they could afford to compete with mixed-use and house developers. It was a requirement not only in terms of planning but in terms of viability."

Despite this, the model never caught on in the UK to the same scale it has elsewhere in the world. "In Asia nobody would think twice about a 7-Eleven, a Circle K or even a large supermarket being underneath residential use," says Ashley Osborne, head of UK residential at Colliers International. "There is the lack of space and need to maximise site coverage, and capacity has meant those things are pretty commonplace" whereas London remains "relatively low, even compared to Paris where typical terrace apartment blocks might be five or six storeys tall".

But in the past two to three years that's begun to change. As the space race has screeched to a grinding halt, supermarkets have sought out increasingly creative ways to get more value from their existing assets, be it sub-lettings, in-house concessions (think Argos), or in-house wine bars, supper clubs and so forth. And against that backdrop the appetite for turning unused air into a big capital payoff has gained momentum.

"We're seeing a creative approach from asset managers and occupiers who own freehold rights to existing retail locations looking at ways in which they can increase and add value to the asset from a financial perspective, but also increase the critical mass of a destination," says Matthew Sobic, director of commercial planning at Savills.
Three supermarket developments in the sky
Conversions made easier
Building up delivers on both those fronts, while simultaneously easing steep requirements for more houses. Which is exactly why "the government recently introduced more flexibility to convert space above shops into residential," adds Ed Cooke, chief executive at Revo.

"We have a huge problem nationally but in London it's even more distinct," says Kitching. "We've only been delivering 25,000 homes in London per year. The mayor says he wants to get up to 50,000-60,000 per year, and based on predictions in terms of population growth, unless we start delivering 40,000 per year we will not even stand still. We have to look at every opportunity to build more residential and everyone has a part to play in that."

Not that scoring brownie points with the latest housing minister is uppermost in the minds of supermarket CEOs. Realising cash to boost their balance sheets - after billions of pounds of property write-downs in recent years - is. And selling off 'air rights' or investing in mixed-use developments can be hugely lucrative.
"Based on predictions in terms of population growth, unless we start delivering 40,000 per year we will not even stand still"
Kitching estimates Tesco has already raised £350m from its London projects, Sainsbury's developments in Vauxhall and Fulham could have netted it "close to £200m" while Morrisons' recent plans for its Camden store could be worth £80m-100m alone. "So you soon see, when looking at all of the retailers in terms of value within the next five years, all will have achieved close to £1bn by focusing on their existing assets."

Grocers that own a decent proportion of the freeholds across their bricks & mortar have the most to gain, says Bagnall, with the option to sell the 'air rights' above their stores as long leases to specialised developers or construction firms, or enter into joint venture agreements.

From that point onwards they - and their depleted property teams - can "have as much involvement as they wish" in the build, says Bagnall. "We provide an end-to-end solution - we'll do the design, get the planning consent and fund all the surveys, and then construct the units, but within that process there's ample opportunity for the retailer to get involved in the process." Not least when "we add a bit more embellishment to their façade while still retaining the branding of their premises". All supermarket property teams will need is a monitoring surveyor acting on their behalf.

"It is a different skill set to acquiring and development supermarkets," adds Cooke, "so working with residential experts tends to be the preferred model."

Still, not every store will be worth the investment. Recovering from the 2008 recession, the construction industry has seen hefty inflation in the cost of builds and low-value contracts will no longer interest developers, says Kitching. He estimates a minimum land value of £550 per sq ft to make a scheme worth the investment, up from £400 per sq ft a few years ago, another reason the trend is gaining more traction in London and higher-value cities such as Bristol, Bath, Birmingham and Manchester. This land value will govern how high the grocers go too, with the highest value sites worth 20-storey builds in some cases.
A brief history of 'air rights'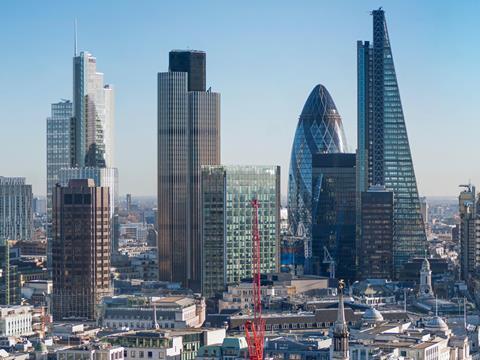 It's one of the most high-profile battlegrounds in property right now, but when did we start selling off air? The concept of owning both a property and the air above it actually dates back as far as the Romans who created the doctrine 'to whomsoever the soil belongs, he owns also to the sky'. You own the air above and below your property to an indefinite extent. It was an idea later incorporated into English law by jurist William Blackstone in the 18th century but 200 years on it had begun causing problems.
By the early 20th century, commercial aviation had begun to take off and with it contention over who owned what air. The issue came to a head in 1940s in a case before the US Supreme Court where US bombers flew so low over a property that the vibrations ended up killing the owner's chickens and causing him deep 'mental distress'.
Regardless, judges agreed that the original sweeping Roman doctrine had 'no place in the modern world' with air now 'a public highway'. They did grant property owners some rights though, to all 'non-navigable airspace' above their freehold - the same 'rights' that supermarkets are able to sell off today.
Exactly where non-navigable airspace ends and navigable airspace begins remains a matter of some controversy and varies from country to country, particularly thanks to a number of recent cases involving drones encroaching on airspace. But roughly speaking it includes any air below minimum flight altitudes, excluding those areas where planes take off and land.
Airspace above all properties today is therefore divided into complex layers with varying rights assigned to myriad different users, from commercial airliners, to military jets, private pilots and, of course, high-rise developers.
'Factor in disruption'
Supermarkets considering selling off a store's 'air rights' "will assess how much value it will generate, which can be exceptional, but they also have to factor in the risks, the costs, the time and internal resources required when they may not have much resource any more in the property teams" says Richard Petyt, a partner at Knight Frank and former senior acquisitions director at Asda.

"They also need to factor in disruption to business during the construction period. It can take a number of years from start to finish on site and customers are fickle. There's no point in having a shiny new store if all your customers have gone elsewhere as they're sick of the construction traffic, the noise and the dust."

It can be a "big challenge working on top of live retail" agrees Bagnall. "We use an off-site manufacturing system whereby the flats come to the site 95% complete. Then it'll be just craning them off the back of a lorry on to a prepared roof so we're reducing that whole timeline in terms of inconvenience and disruption to the retailers and their customers."

Then there are the aesthetics. After all "you can't just plonk residential on top of retail, it's got to be a holistic approach" says Kitching. "You've got to create a place with good architects. Technically you can go as high as is practical, it's not beyond the wit of man to go 20-30 storeys, but you've got to think about viewing corridors too."

"If they've got an existing nice, clean store with a surface car park but end up with a compromised store of different design that isn't as attractive to the shopper they might have both the impact of disruption during the construction and end up with a store that is not as attractive to the shopper at the end of the process as well," adds Petyt. It's a balancing act where "the loss of turnover and profit over time may outweigh the value generated - a calculation they've got to try and get to grips with."

And quickly. Against the backdrop of a national housing shortage political pressure on retailers to turn an untapped resource into desperately needed houses isn't going anywhere, while rival shareholders watching frontrunner Tesco make millions from its roof space will be keen to see every grocer get in on the act. "This has only got a momentum going over the last couple of years," says Kitching. "I do see it as heading for huge growth - and we need it."