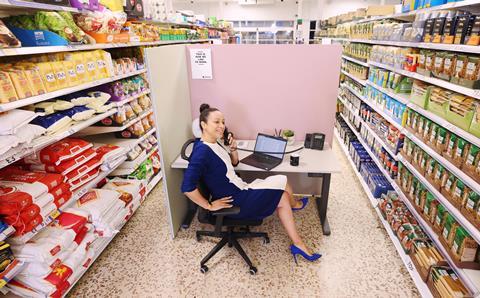 Tesco is to convert excess store space into offices to be used by people on hybrid working patterns.
The supermarket is taking advantage of the pandemic-driven shift to home working by partnering with office landlord and flexible workspace provider IWG to convert the 3,800 sq ft upper mezzanine of the Tesco Extra store in New Malden.
The space will contain 12 desks, 30 co-working spaces and a meeting room. It is to be opened to businesses and individuals who join the IWG platform – including shoppers wishing to catch up on some emails – from this month.
The tie-up is expected to see excess space in more Tesco stores converted to flexible offices.
IWG said its research demonstrated the ongoing popularity of hybrid working. It found 72% of workers would prefer the long-term ability to work flexibly over going back to the office five days a week with a 10% pay rise.
"We are pleased to be working with IWG to offer customers the chance to work more flexibly from their local Tesco," said Tesco head of strategic partnerships Louise Goodland. "We are always looking to serve our customers and communities better and we will be interested to see how they respond to this new opportunity."
IWG claims to be "leading the workspace revolution". Its recently launched 'OpenDesks' are designed for retail-based office space and use magnetic screens to create privacy.
IWG operates 300 flexible offices across the UK and is set to open sites this year in south London's Twickenham, Sutton and the revamped Battersea Power Station. Each of its workspaces can be accessed by downloading its mobile app.
IWG founder and CEO Mark Dixon said: "People don't want to spend hours commuting every day and instead want to live and work in their local communities. A Tesco Extra in a suburban location, in the middle of a vibrant local community, is the perfect location for flexible office space.
"New locations in suburban areas will transform communities and are a response to the growing demand we are seeing from customers who want to live and work locally."