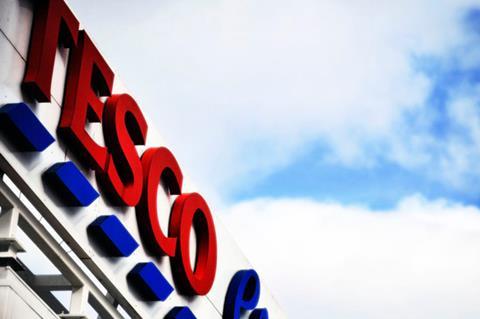 Tesco has been hauled over the coals by the competition watchdog over "unlawful restrictions" stopping rival supermarkets opening next to its stores.
The CMA has written to Tesco about 23 stores that have property agreements preventing landlords letting to other supermarkets nearby. All are in breach of the Groceries Market Investigation (Controlled Land) Order 2010, according to the authority. The result may have been that consumers were worse off thanks to a limited choice of retailers, it said.
The issue first came to light in 2018, and was highlighted to Tesco by the CMA at the time.
But a subsequent review by Tesco found a further 22 stores in breach of the order.
Andrea Gomes da Silva, CMA executive director, market mergers, has written to Tesco CEO Dave Lewis to "express my concern" at the repeated breaches.
"As you know, the Order was put in place in 2010 to stop grocery retailers benefiting from long exclusivity arrangements and restrictive covenants," she wrote. "It is therefore concerning to have found that Tesco breached the Order on 23 occasions between 2010 and July 2015, and that while Tesco had implemented processes and controls to ensure compliance with the Order, these were not always sufficiently robust."
Three of the 23 stores had restrictive covenants that could prevent other tenants from opening competing stores nearby, breaching article five of the order, according to the CMA. The other 20 had agreements that allowed Tesco exclusive rights to sell groceries in certain areas for longer than five years, breaching article eight.
Tesco had agreed to take remedial action on all the agreements and improve internal processes to avoid further breaches, the CMA said today.
The authority has also written to Sainsbury's, Asda, Morrisons, Waitrose, M&S and the Co-op, asking them to show their land agreements are not in breach. Any who do not comply could face enforcement action.
Gomes da Silva is calling for the power to impose fines for breaches. "It's unacceptable that Tesco had these unlawful restrictions in place for up to a decade," she said. "By making it harder for other supermarkets to open stores next to its branches, shoppers could have lost out.
"In the future, we want the ability to fine businesses if we find that they are in breach of our orders. That's why we've called on the government for more powers."
Her letter to Lewis acknowledges that in most cases the breaches were the result of Tesco renewing agreements entered into before the order came into force, without checking the original terms.
The letter adds: "I recognise that Tesco has acknowledged the breaches that have occurred, has co-operated with the CMA in taking forward its analysis and has begun to take remedial action. However, in my view, this episode highlights significant shortcomings in compliance for a company of Tesco's scale and resources."
A Tesco spokesman said: "We do not use restrictive property agreements. However, in a small number of historic cases between 2010-15, administrative errors by former advisors meant that our internal processes were not followed correctly.
"As the CMA recognises, we have worked collaboratively in resolving this, and our voluntary review of 5,354 land deals found isolated issues in just 0.4% of these. We have since strengthened our controls and training, and are releasing the affected parties from all non-compliant terms."
The CMA also published the list of stores as follows:
Victoria Street, Hednesford
Croft Retail Park, Bromborough
West Durrington Centre, Worthing
Horton Retail Centre
Great Suffolk Street
Mile End Road
Oxford Road, Reading
Chester Road, Northwich
Rushey Green, London
Wolseley Road, Plymouth
Wellingborough Road, Northampton
Pencoed, Mid-Glamorgan
Saxmundham Road, Aldeburgh
Askew Road, Shepherd's Bush
Fore Street, Edmonton
Goodmayes Road, Rowallan
Stainland Road, Halifax
College Road, Harrow
High Road, Kilburn
Ladbroke Grove, London
New Cavendish Street, London
High Street, Penge
Brentwood Road, Romford