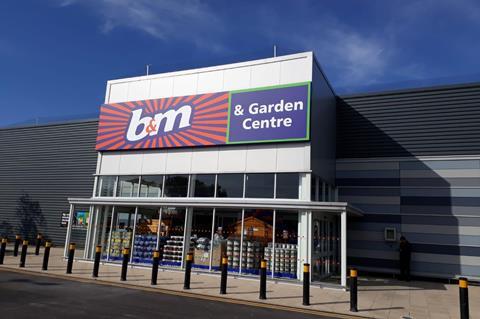 The wave of retailers entering CVAs this year is playing into the hands of variety discounters such as B&M in property talks, according to experts.
As landlords become more desperate to retain or acquire tenants, variety discounters have been able to dictate lease terms, including long rent-free periods and contributions to store fit-outs, retail property agents have told The Grocer.
CVAs – or company voluntary agreements – allow businesses to restructure their costs, including by pausing or reducing rent payments on stores, subject to ­creditor approval.
A wave of retailers launching CVAs in the pandemic includes Poundstretcher, Caffè Nero and Ann Summers, the latter to cut rents and win more favourable lease terms. According to the British Property Federation, 33 major retail and hospitality businesses have launched CVAs this year compared with 11 in 2019.
As a result, "if you're letting to B&M or Poundland or Home Bargains, you know you're out of traditional lease options and they will dictate what they can afford to you," said Johnny Rowland, director retail at Savills.
"The more people who have done CVAs over the year, the greater their power, because the CVA means the landlord either has to accept a rent drop or even no rent.
"So they want to boot those guys out and find a better alternative."
It meant variety discounters were able to secure "near temporary" two-year leases, as opposed to the traditional 10, and based purely on turnover, he added.
Poundland recently announced plans to open 12 UK and Ireland stores by Christmas and 45 within 12 months. Meanwhile CACI data suggests B&M grew its estate by a net 20 stores to 279 in the 12 months to September this year. Fifteen were added from March to June alone.
As well as presenting opportunities for new stores, retail CVAs and insolvencies were also enabling variety discounters to dictate terms on renewed leases, said Knight Frank partner Richard Petyt.
"There's a lot of space out there, so it's happy hunting ground for them to strike deals, and that could also apply to renegotiating terms to stay in existing stores at the end of the lease," he added.
He said concessions won from landlords included contributions to store refits.
David Fox, co-head of UK retail at Colliers International, said: "The prevalence of CVAs and administrations is undoubtedly improving terms for the variety discounter stores as pressure increases on owners to fill space.
"It is not just new stores where they are seeing this commercial advantage, as it enables them to procure better terms through lease events and expiries."
In June this year, Poundland head of portfolio management Ben Wall told The Grocer how the business was moving its whole estate to more favourable terms in the wake of the first lockdown, including payments monthly in arrears and 'Covid clauses' providing protections in the event of further lockdowns.
Richard Curry, partner in retail and leisure at agents Rapleys, said variety discounters were able to dictate renewed leases "almost like a new lease scenario", gaining "six months rent-free, a break at year-three, whatever terms you choose".
Landlords are "so scared they're going to clear off," he said.
The BPF forecasts ongoing disruption from the pandemic "will undoubtedly mean many more [businesses] consider CVAs in the months to come".
Curry said it also meant "more to come" for variety discounters' property bargaining power.