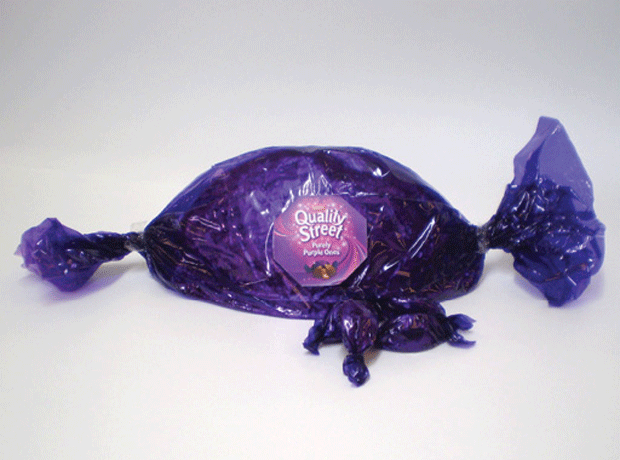 Nestlé is launching a raft of new Quality Street lines as it looks to extend the brand beyond sharing and back into the gifting market at Christmas.
Among the products being introduced this September are two novelty packs shaped like giant Quality Street sweets. Purely Purple Ones contains 36 regular-sized purple sweets (rsp: £6) and Totally Toffee Fingers contains 38 of that variety (rsp: £6).
Nestlé said it was hoping to "bring the specialness back to twist-wrap" and inject fresh life into the 76-year-old brand - which grew just 0.4% to £88.2m last year [IRI 52 w/e 5 January 2013].
"Brands need to keep up to date to prevent commoditisation so we are taking the lead on twist-wrap," a spokesman said.
Following the launch of the My Purple Bar in 2011, a bar version of the Green Triangle hazelnut praline sweets is being introduced (rsp: 65p). As well as the standard 350g Quality Street carton, Nestlé is also offering 350g cartons containing a limited selection of sweets: Quality Street Fruit Crèmes with strawberry, orange and new lemon-filled chocolates, and a Toffees & Fudge carton (all rsp: £4.38).
It is also launching a £1 mini-carton of Quality Street (70g) after admitting the brand had started to be "conspicuous by its absence" from the mini-cartons market.
Marketing for the new lines is being limited to digital and social media.
Nestlé is also boosting its novelty and kids offering with an impulse Milkybar polar bear cub (rsp: 65p/25g), a hollow Milkybar Snowy Owl (rsp: £2.07/80g) and a hollow Smarties Robin (rsp: £2.07/100g).
A 'man-sized' Yorkie spirit level containing six Yorkies (rsp: £4/330g) will replace 2012's hollow truck, and a giant Smarties tube with eight packs (rsp: £4.50), exclusive to Tesco last year, will be available across the market this year.