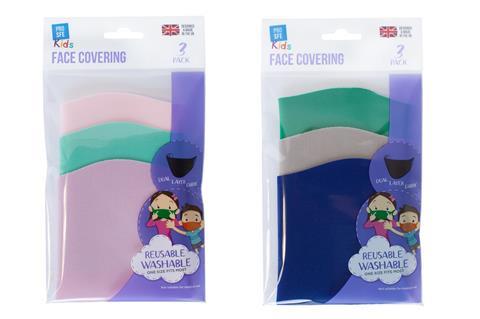 The Co-op has launched its first face coverings for children aged seven and over.
The three-pack of brightly coloured, reusable, non-medically graded face coverings are now available across all of the Co-op's 2,600 stores at £3.
The product can also be purchased through the Deliveroo app and its website from later this week.
While those aged under 11 years old are not required to wear a face covering, the Co-op said demand remained high.
Face coverings are currently one of its top three most shopped items, selling more than three million since it launched its range at the end of May.
The masks are antibacterial, water repellent and can be washed up to 20 times.
"As a community retailer with stores in every postal area, we wanted to extend our range to have a suitable offer for the whole family," said Co-op category buying manager Joseph Turner.
"The new face coverings should be worn in line with the latest government legislation and guidance and are not suitable for anyone aged three years old and under."