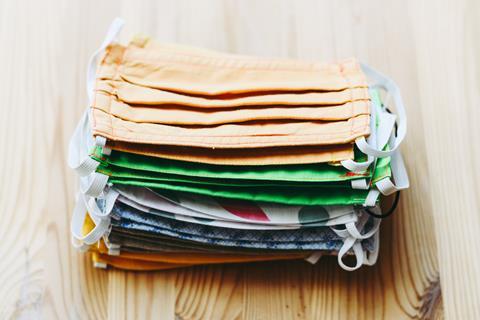 The UK government advises the wearing of masks in confined places, such as supermarkets

Supermarkets are expected to stock type 2 surgical masks as well as more basic face coverings
Face masks will become commonplace on supermarket shelves within the next three weeks, according to suppliers who are in advanced discussion with supermarkets.

The Grocer has been told most major food retailers will start stocking masks, after fears dampened that such a move could deprive frontline medical workers of supplies.

Among companies preparing to unveil products on the supermarket shelf is TSL, best known for its range of feminine care products, which said it had set up capacity at a factor in Wigan to manufacture more than 100 million masks a year.

"People should expect to see masks on the shelves of most of the supermarkets, starting in the next week to three weeks," said MD Chris Patterson.

"Supermarkets have been incredibly responsible and professional in the way they have gone about this. They made it clear that they didn't want to touch any supplies that could possibly have helped frontline workers and that continued to be the case.

"However, as we move to the next stage of lockdown, it makes sense for people to be able to buy masks from our major supermarkets."

The UK government advises the wearing of masks in confined places, such as stores and supermarkets, following an earlier move by the Scottish government.

However, last week figures from the Office for National Statistics revealed only a third of UK adults were wearing face masks outside their homes.

TSL's Patterson said he expected different supermarkets to carry different standards of masks, with some stocking type 2 surgical face masks and others a more basic range of face coverings.

The company has set up facilities to handle both types of orders. The market has previously been dominated by Chinese imports.

The Grocer revealed in May that UK supermarkets were putting plans in place to begin selling face masks, before they were recommended for mass public use, despite concerns over shortages of PPE.

Earlier this month face mask provider Mask Bros revealed it was targeting listings in all major UK supermarkets, as it aimed to become a household brand for high-quality, non-medical face coverings.

Set up by students Cogan Wade and Frederik Filz von Reiterdank, it is offering face masks at cost price and has shipped more than 130,000 masks to the UK ready for the rollout.