Colin the Caterpillar goes sour and bakery gets a pumpkin makeover.
From spooky sweets to terrifying dog treats, check out the new food and drink products landing in supermarkets in time for Halloween 2023


M&S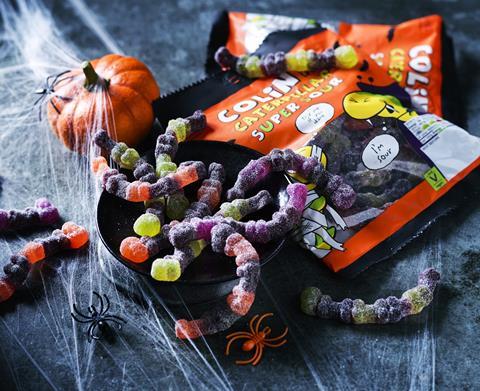 Colin the Caterpillar Super Sour
£1.90/170g
New, limited-edition super sour Colin sweets made using no artificial colours or flavours.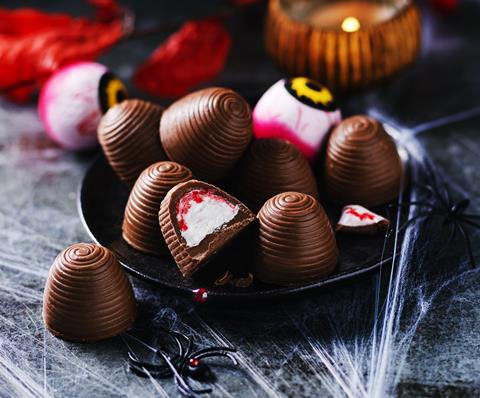 Menacing Malloweenies
£2.25/120g
Limited-edition mini whips made with 100% responsibly sourced cocoa, filled with soft mallow and a raspberry flavoured sauce.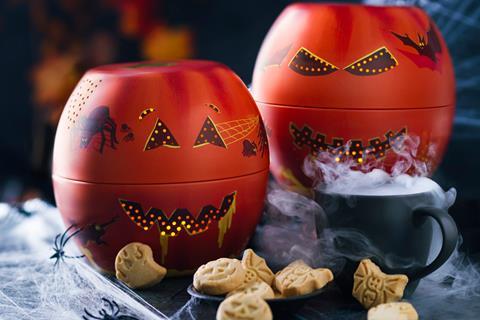 Shortbread Light Up Pumpkin Tin
£6/230g
A light-up pumpkin tin containing all butter shortbread spooky shapes including bats, ghosts and pumpkins, made in Scotland.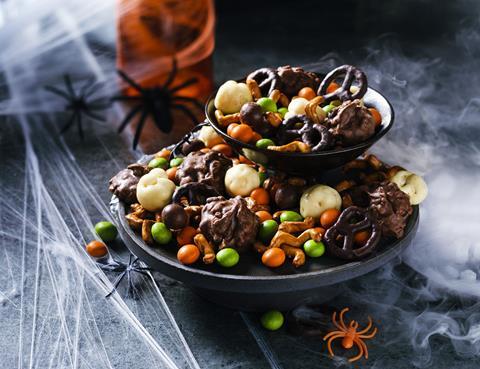 Hallow-Scream Munch Mix
£3.50/300g
A mix of green and orange crispies, dark chocolate pretzels, milk chocolate malt balls, pretzel sticks, white chocolate popcorn and milk chocolate pretzel clusters.
Lily's Kitchen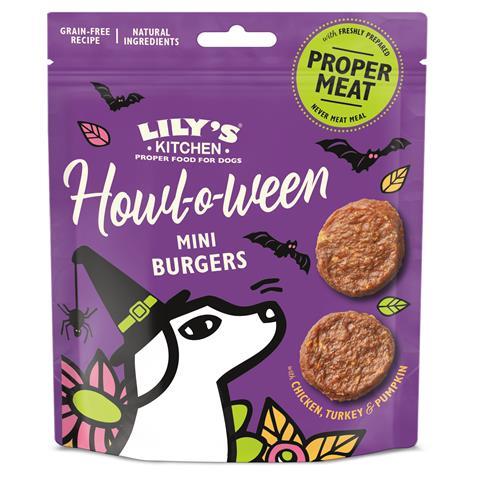 Howl-o-ween Mini Burgers
£3.50/70g
Available from lilyskitchen.co.uk
"Hauntingly delicious" treats are made with freshly prepared turkey and chicken with a sprinkle of pumpkin, cinnamon and ginger.
HelloFresh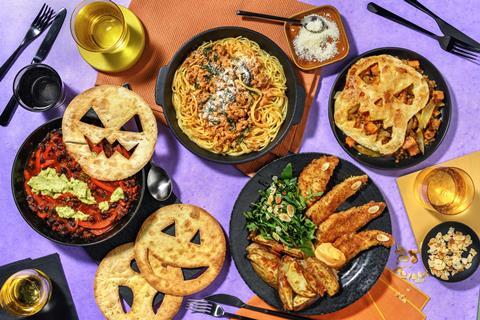 Available via HelloFresh with prices starting at £3.15 per person
HelloFresh has launched a limited-edition range of eight 'fa-boo-lous' recipes for Halloween. Recipes include:
Creepy Cottage Pie with Cheesy Potato Top and Buttery Peas
Witches Cauldron Mac and Cheese with Pesto, Green Veg and Herby Crumb
Ghoulish Chicken Goujons with Cheesy Wedges, Sriracha Mayo and Rocket
Spooky Curried Pie with Roasted Sweet Potato, Onion and Lentils
Haunted Hot Dogs and Spiced Chips with Crispy Onions and Roasted Garlic Slaw
Ghostly Black Bean Chilli with Devious Dippers and Avocado 'Goo'
Slippery Slimy Pork Spaghetti Worms with Cheese and Baby Spinach
Bubbling Bean Jacky-P with with Gochujang, Cheese and Sesame Slaw
Heck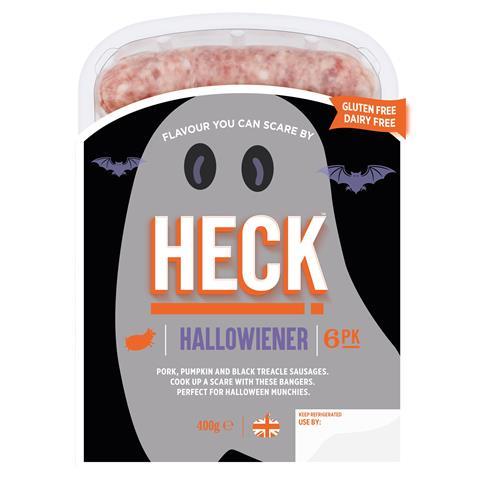 Hallowieners
£2.50/400g/six sausages
Available at Asda from 26-31 October
Returning for the first time since 2018, Heck is launching sausages made with 80% lean British pork shoulder, pumpkin, black treacle and a touch of chilli. Gluten-free and dairy-free.
Sainsbury's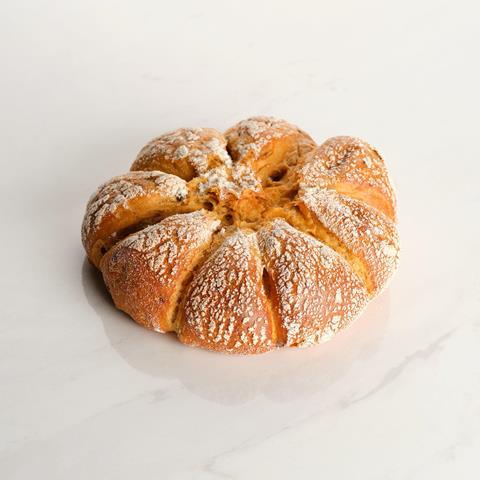 Taste the Difference Spiced Pumpkin Loaf
£2.25
White wheat flour pumpkin-shaped bread with pumpkin seeds, and spices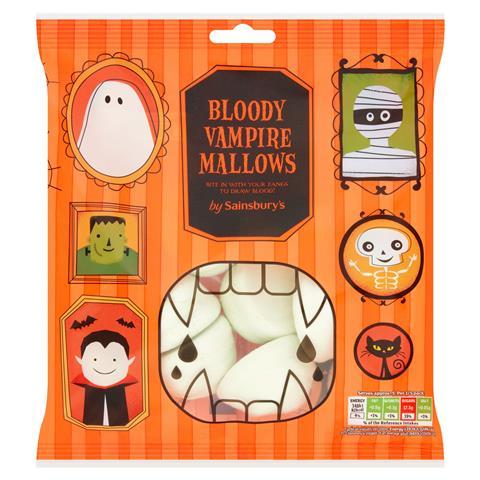 Bloody Vampire Marshmallows
£1.50/130g
Marshmallow with strawberry filling.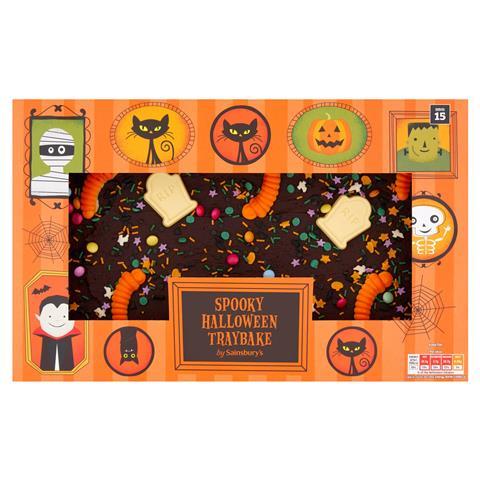 Halloween Traybake
£7/710g
Chocolate cake topped with chocolate buttercream, white chocolate decorations, sugar-coated milk chocolate beans and sugar sprinkles.
Bernard Matthews
Turkey Spooky Shapes
£3.50/585g
Available at Iceland
Limited edition for Halloween this year – frozen 13 turkey 'Spooky Shapes' in the forms of bats, cats and witches' hats.
Iceland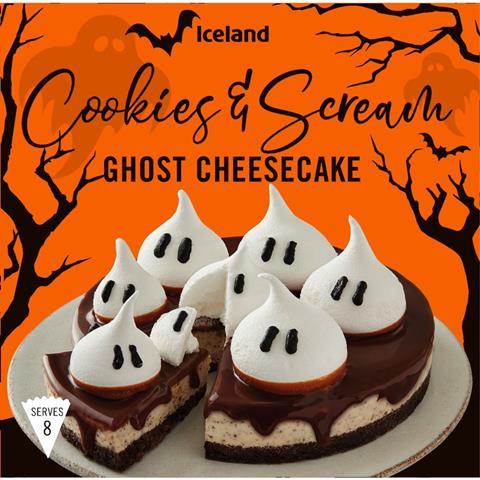 Halloween Cookies & Scream Cheesecake
£5/510g
Vanilla flavour cheesecake with chocolate cookie crumbs on a chocolate cookie crumb base, covered with milk and dark chocolate glaze and topped with meringue-shaped ghosts.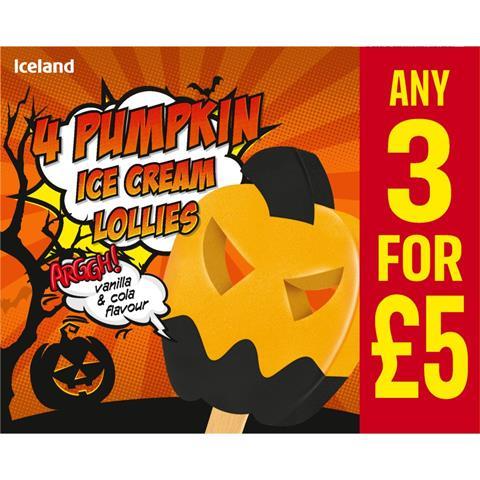 Halloween Ice Cream Pumpkins
£2.50/four-pack
Orange coloured vanilla flavoured ice cream and cola flavoured water ice lollies.
Denzel's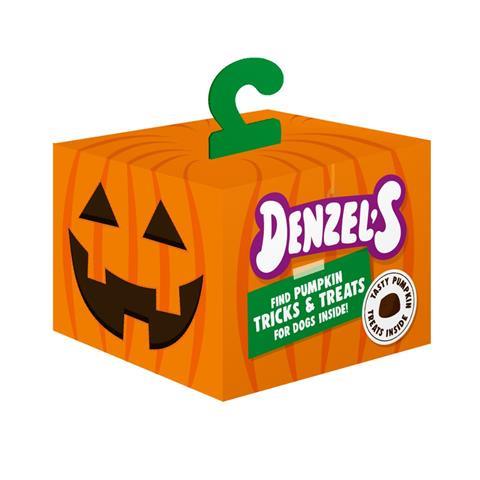 Pumpkin Jack O' Lantern dog treats
Rsp: £2/50g
Available in Tesco
New to grocery for Halloween this year, Denzel's has launched a pumpkin-shaped box of vegan-friendly dog treats. Made with banana, pumpkin and beetroot.
Aldi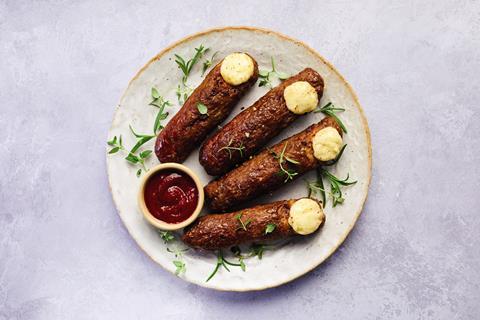 Beef Troll Toes
£3.99/472g
Available from 26 October
Tasty toe-shaped beef patties equipped with hideously brilliant pickled onion for toenails, these will certainly be a talking point of the party table this spooky season!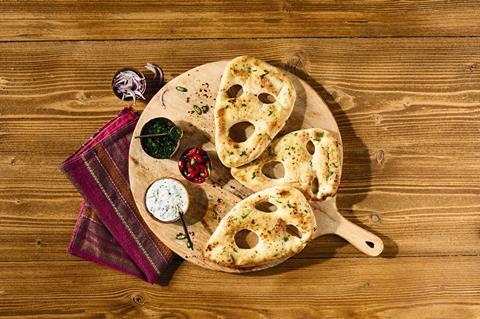 Scary Naan Breads
£0.99/two-pack
Available now
Naan bread seemingly inspired from The Scream painting.
Pork and Maple Pumpkin Burgers
£2.79/300g
Available from 26 October
Pork burgers topped with a bright orange crumb.
Jackson's of Yorkshire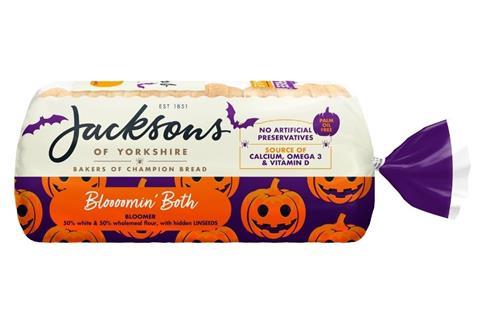 Bloooomin' Both loaf
£1.55/800g
Available via Waitrose, Ocado, Booths and Milk & More
Jacksons of Yorkshire is launching its first ever seasonal pack design for Halloween. The limited-edition design will feature on its 50% white, 50% wholemeal loaf, Bloomin' Both, which will be renamed Bloooomin' Both.
Whole Foods Market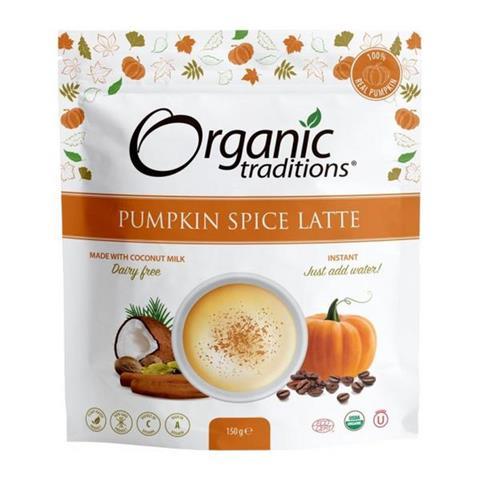 Organic Traditions Pumpkin Spiced Latte Mix
£9.99/150g

Plant-based, organic and vitamin-rich latte made with 100% real pumpkin. Mix one and a half tablespoons with warm water.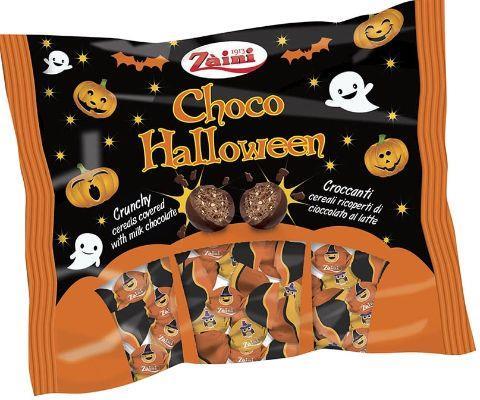 Zaini Choco Halloween cereal bites
£5.69/125g

Crispy cereal biscuit bites covered in milk chocolate.
Asda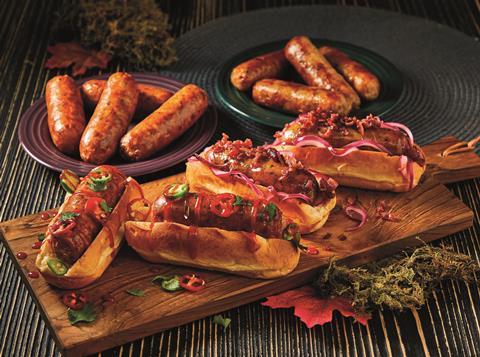 Heaven and Hell Sausages
£3.25/six-pack
Packs of 'heavenly' bonfire toffee apple and hot 'hellfire' sausages.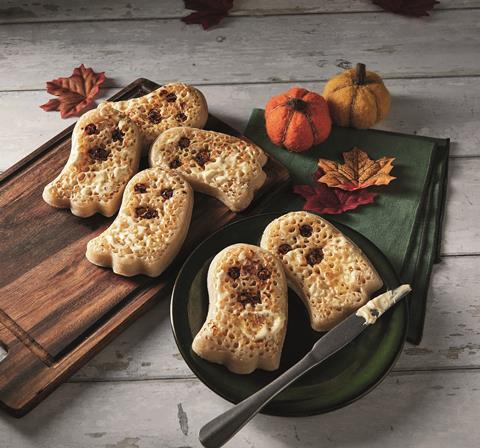 Ghost Crumpets
£1.25/six-pack
Ghost-shaped crumpets in packs of six.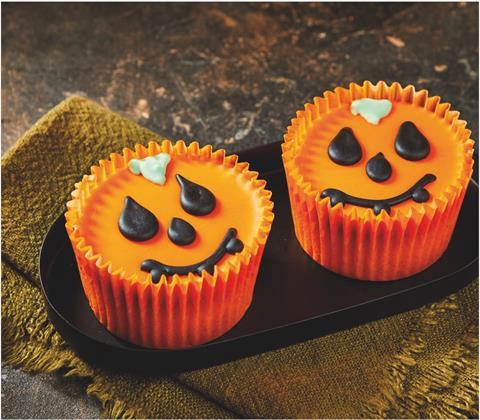 Pumpkin Flooded Cupcakes
£1.45/two-pack
Bright orange cupcakes with pumpkin icing design in packs of two.
Dead Man's Fingers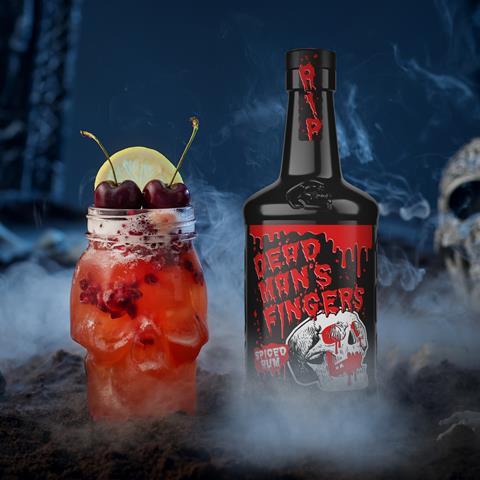 Rsp: £25, abv 37.5%
Spiced rum brand, Dead Man's Fingers, has unveiled a limited time only new look for its flagship spiced rum to celebrate the Halloween season.