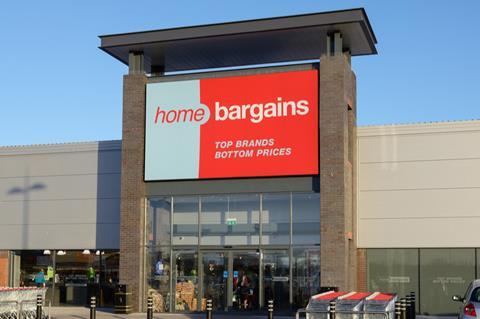 Home Bargains has trademarked the name 'Meadow Hill Fresh Groceries' in a move which analysts say points to growing ambition in the area.

The recently registered trademark is for "fresh fruit and vegetables" according to the Intellectual Property Office.

It could be a tactic to promote "brand trust" in new fresh produce ranges, a potential challenge for "non-food specialist" discounters, according to Thomas Brereton, retail analyst at GlobalData.

Home Bargains already offers fresh fruit & veg in some stores, along with chilled and ambient ranges, but it's a new area for the discounter, according to Brereton.

The trademark suggests "they feel they can get a foothold", he said.

Home Bargains' buying director Daniel Sowden said Meadow Hill ranges were yet to launch, but the name has already appeared on some produce in stores, including four pink apples for 49p. Home Bargains did not provide further information.

In September, Home Bargains became the thirteenth retailer to be policed by the Groceries Code Adjudicator after revenues reached the £1bn threshold for inclusion. Home Bargains' rival B&M was added to the list last year.

"We're looking at non-food discounters in grocery quite closely," said Brereton. "We run a 10,000-person survey every year, and this year 23.2% said they'd purchased food and grocery from B&M and 19.4% from Home Bargains. Both are now higher than Waitrose, for example, on 18.7%."

Last year Home Bargains was behind Waitrose, at 17.9% compared to 19.7%, while B&M was on 21.7%.

Brereton said Home Bargains' push into fresh produce would have to be done "carefully".

"Obviously you've got so much competition, from Aldi and Lidl specifically, but there could be scope to identify stores that have less fresh produce competition nearby."

Poundland recently introduced new frozen, chilled and fresh ranges in a five-store trial which could extend to 250. It has also rolled out new price points, from sub-£1 to £10, and new chilled and ambient grocery lines across its 850-store estate.