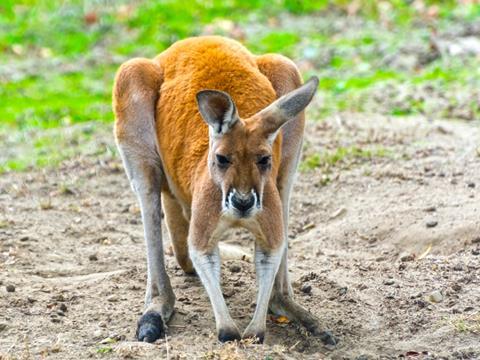 Lidl is to end its trade in kangaroo meat after years of protests from animal welfare campaigners, becoming the last UK retailer to end sales of the controversial product.
The discounter confirmed it would stop selling kangaroo meat from June after intermittently stocking steaks under its premium Deluxe brand for years. It cited 'customer tastes' and 'changing preferences' among its considerations in taking the decision.
"As a global retailer, we strive to offer a range of international produce to the UK consumer and our kangaroo meat range has always proven popular," said a Lidl spokesman. "Following recent customer feedback, we have taken the decision to no longer sell kangaroo meat at Lidl UK."
Animal welfare organisation Viva welcomed Lidl's announcement as the latest win in its long-running campaign to end sales of kangaroo meat, the sourcing of which it claims is cruel and unsustainable.
In February, Iceland announced it would no longer sell kangaroo meat in the form of meatballs, steaks and sausages, while Tesco and Morrisons dropped lines in 2015. Last June, Viva threatened protests outside Sainsbury's stores after the retailer launched a limited-edition line of kangaroo steaks.
The majority of kangaroo meat comes from wild animals in Australia, with shooting taking place unmonitored and under cover of darkness, claimed Viva. It said RSPCA Australia estimated about 100,000 kangaroos per year were not immediately killed, surviving for some time with serious injuries/
Australian government regulations dictate young in a female's pouch must be shot, decapitated or bludgeoned immediately after the mother's death, while adolescents unable to fend for themselves should also be shot. However, critics claim this does not always happen and the young are left to starve.
Viva has also pointed to evidence that kangaroo meat can be contaminated with high levels of salmonella and E.coli, posing a risk to consumers. "The novelty value of so-called 'exotic meat' has been masking the true horror of a brutal business for too many years," said the organisation's founder and director Juliet Gellatley. "Viva remains committed to supporting Australian wildlife groups to end the bloody trade and celebrate the kangaroo for its unique and iconic status in Australia."