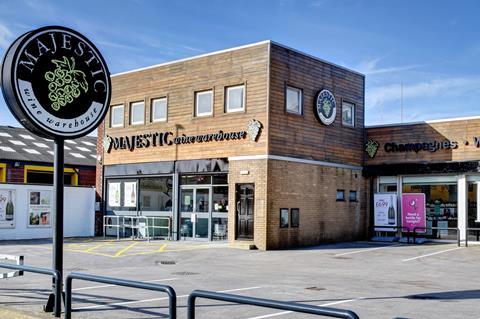 Majestic Wine has given its range a major shake-up as its sale to private equity firm Fortress nears completion.
The retailer, which earlier this year hired former Tesco booze boss Rob Cooke to revamp its range, has introduced a swathe of new wines, beers and spirits, including many 'Majestic Classics' - which had disappeared under the reign of former CEO Rowan Gormley.
John Colley, the former Majestic CEO who returned to lead the retailer in August after two years at home improvement retailer Kingfisher, called the move "a stepping stone".
He told The Grocer: "We think this gets us back to where we should be. Rob's not been in very long and there's only so much he can do in so much time, but he's very clear about who our customers are and about competition with the supermarkets."
As well as a renewed focus on categories such as white burgundy, where Majestic historically performed well, the update includes a number of firsts for the retailer, including new wines from Macedonia, Greece and Lebanon.
It has also listed its first-ever range of non-alcoholic wines, a red, white and rosé trio from Spanish brand Sangre de Toro.
Broadening beer and spirits
Outside wine, it has significantly grown its beer range with a mixture of craft players, such as Siren (whose Calypso brew will be the first sour beer stocked in Majestic) as well as 'key brands' such as Heineken, which it is stocking for the first time.
In spirits, it has listed the likes of Rockstar Spirits, who sell a trio of flavoured rums, gin liqueurs from Bristol Distilling Co, and posh craft brand East London Liquor Company, with Majestic buyer James Reed citing rum as a key focus.
It has also begun stocking its first RTD, a Bacchus Gin & Tonic can from English winemaker Chapel Down.
"Just because we have always been a traditional wine merchant doesn't mean we can't be at the forefront of all these trends," said Reed.
Local sourcing quashed
However, Majestic has temporarily put the kibosh on managers' ability to source craft beers from brewers local to their shops. "It's on stop apart from for SKUs that do work - there's quite a lot of stuff that quite frankly didn't, and it's great that we tried but it wasn't working properly," he added.
He would look to implement a "more practical" approach to local buying next year, he added. "If we re-launch I don't just want to have lots of SKUs in different stores, I want to feature them online - otherwise how is a customer meant to know what they're going to see when they come in?"
Majestic Wine was sold to Fortress by Naked Wines in a £95m deal in August, which will close over coming months, taking the retailer off the stock market and splitting it from its online sister business Naked Wines.
Rowan Gormley, now CEO of just Naked Wines, said at the time the move would allow both companies "to pursue growth by focusing on their unique propositions".