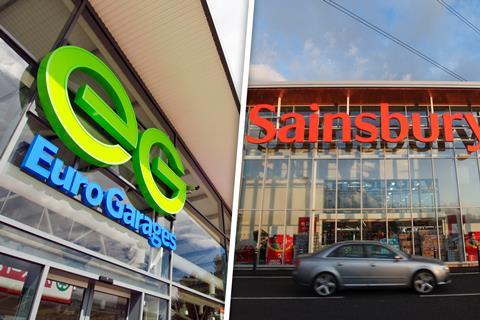 Sainsbury's has once again partnered with Euro Garages in a fresh attempt to push its wholesale ambitions.

The supermarket is supplying food-to-go lines at a "small number" of the forecourt retailer's locations.

The two businesses ended a nine-store franchise tie-up in 2018 with industry experts suggesting the shops did not make enough money for either party.

Sainsbury's lines available as part of the new pilot include own-brand sandwiches, wraps and salads, as well as 'food for tonight' items like ready meals.

The supermarket group said the new Sainsbury's On the Go trial began "very recently".
Last month The Grocer revealed that Sainsbury's was no longer supplying food to go products and grocery lines as part of a trial in 10 WH Smith stores. Sainsbury's said today (20 May) that had been phase one of the tie-up and that pahse two was now in progress.


"We are always exploring partnerships which will allow us to offer our great quality and value products to more people in more places, and in more convenient ways," said a Sainsbury's spokeswoman.

"We can confirm we're offering Sainsbury's products at a small number of Euro Garages service stations on a trial basis."

Euro Garages did not respond to The Grocer's request for comment.

TCC Global insight director Bryan Roberts said the trial "might fare better" than Sainsbury's previous full-on store partnership with Euro Garages as "it's capital-light, and more of a wholesale than a retail strategy".

"Although the partnership with WH Smith also faltered, this one makes a bit more sense as the environment is much better suited to food-for-now shopper missions," he said.