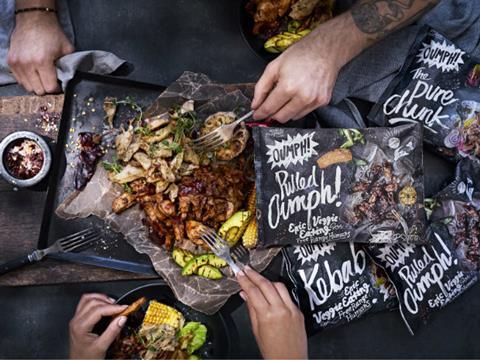 Swedish meat alternative brand Oumph has secured its first major UK retail listing, with three of its 10 soya protein-based products going on sale in Tesco.

The brand's Kebab Spiced meat alternative went on sale yesterday in just shy of 400 Tesco stores alongside its pulled pork alternative Pulled Oumph and chicken alternative Chunk variants (all rsp: £3.49/280g).

The freezer aisle SKUs are designed for convenience, cooking from frozen in five to six minutes. They are flavoured with organic herbs and spices.

"Tesco is doing some very exciting things in the plant-based sector with the launch of its Wicked Kitchen range, so we'll be focusing our attentions on our listing with them for the foreseeable future," said head of UK sales for Oumph's parent company Food For Progress, Nick Jacobs.

"We have a range of 10 products which we'd be happy to bring over to the UK in due course."
It comes as the retailer continues to increase its plant-based offering, a move driven by its director of plant-based innovation and executive chef Derek Sarno.

"We're seeing massive demand for plant-based food and are thrilled to be unleashing the mighty flavour of plants, making eating meat-free easy and accessible like never before," said Sarno.
"When I first tried Oumph, I immediately knew it would complement our range and offer those wanting to eat more veg an epic tasting experience. Oumph is a great addition to our already stellar lineup and the start of many more things to come."
It adds to international listings for the brand, which is also on sale in Sweden, Denmark, Norway and Iceland, and was previously on sale in Whole Foods Market in the UK.

Oumph launched in the UK last year at IFE in London, with the claim of having added 24% growth to the category from 2016 to 2017 in its native Sweden. More recently, the brand has expanded international markets, launching a pizza sub-brand in January.

This week, Tesco also expanded the range of Quorn products it stocks to include a new Cumberland sausage variant suitable for vegans. It reformulates the brand's original Cumberland sausage SKU, which features milk and egg in its ingredients.