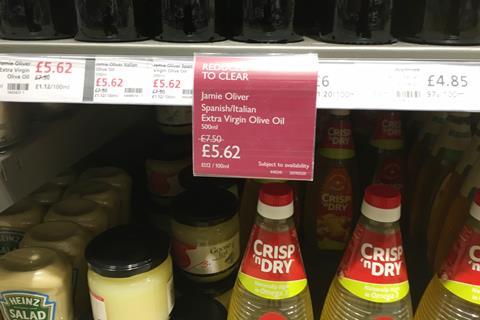 Waitrose has confirmed it has overhauled 34 categories as part of its major ongoing range review.

The Grocer revealed last August that the retailer was working with consultancy OC&C on the project, which has echoes of major reviews previously carried out by rivals Tesco and Asda.

A Waitrose spokesman this week told The Grocer the retailer reviewed 24 categories last year and has completed a further 10 so far this year, with oils and vinegars the latest fixture to undergo changes in the coming weeks.

The retailer has been looking to run down the stock of products that are being delisted within the oils and vinegar fixture, featuring a host of reduced to clear shelf-edge labels. These featured on brands such as Jamie Oliver and Filippo Berio.

Another major category to have been completed recently was hot beverages, with major brands such as Tetley, Taylors of Harrogate, Twinings, Nescafé and Lavazza all facing multiple delistings.
One affected supplier suggested the moves could alienate loyal Waitrose shoppers.
"I think Waitrose has lost the plot," he said. "It is in danger of killing the goose that lays the golden eggs. Its shoppers actually want to buy our product. Luckily for us we are making gains elsewhere that will more than compensate."

The Waitrose spokesman said: "We continue to review our ranges to ensure they are absolutely right for customers, removing duplication and differentiating from competitor ranges."

He did not provide details of which categories would be looked at next. The reviews are happening alongside major changes to the retailer's commercial department as it looks to switch to a more data-driven category management approach to buying.