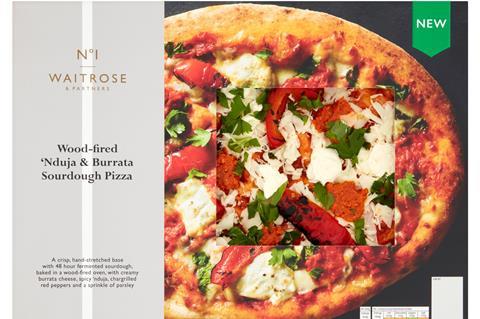 Waitrose has revamped its premium own-label range with the addition of around 200 new products, and expanded it into wine and flowers for the first time.

The new Waitrose & Partners No.1 range replaces Waitrose 1 as the upmarket retailer's premium tier with around 650 SKUs.

Some products have been filtered into stores over the past few weeks, but the full range will be launched this week supported by in-store activity aimed at getting shoppers familiar with it.

The 200 new lines include wood-fired 'Nduja & Burrata Sourdough Pizza and Coconut, Passion Fruit & White Chocolate layer cakes.

The retailer has moved away from the black packaging traditionally associated with supermarket premium ranges. Instead the No.1 range is using a new creamy, grey colour and features the tagline: 'The very best of Waitrose & Partners'.

Waitrose said there had been a step-change in the quality of many of its lines, as it had worked with suppliers to provide the best ingredients possible - such as the wine in its beef bourguignon or real parmesan cheese to accompany its fresh pasta dishes. For the first time it is using raw fish in its fish pie, that will get its first cook when a customer puts it in the oven.

"Waitrose & Partners No.1 has been created by passionate experts to exhibit the exceptional products that Waitrose & Partners has to offer," said head of design Ashleigh Vinall.

"We are offering our customers products that are distinctly different from our core offering, which is reflected in the new design that will stand out on the shelf."

The new packaging has been developed to comply with Waitrose's pledge to make all own-brand packaging widely recyclable, reusable or home compostable by 2023. Instead of black trays for ready meals, a number of these will now use easily recyclable gold foil.

"We are really proud of this as it helps us move even closer to all of our own-brand products being out of black plastic by the end of the year," added Waitrose & Partners packaging manager Karen Graley.
Work in the own-label industry?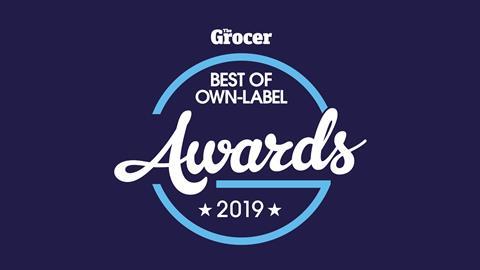 We want to celebrate the sheer brilliance of the UK own-label industry and the people who drive it. Entries are now open for The Grocer's Best of Own-Label Awards 2019 and titles including Best Own-Label Buyer, Best Own-Label Development Chef and Best Own-Label Range are up for grabs.