Parents can cheer now the PM's plan to scrap free school meals has hit the rocks. What about food & drink brands?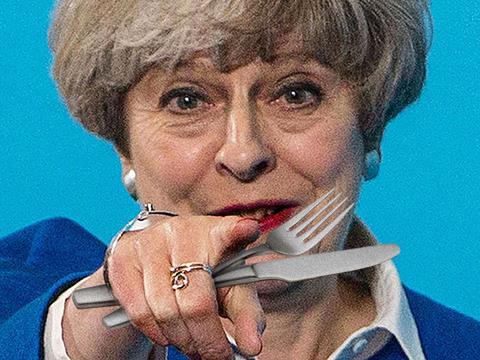 The snap election she said she'd never call, 'Brexit means Brexit', that hand fumble with Donald Trump… Theresa May will be remembered for many things, but at least she won't go down in history as 'Lunch Snatcher'.

That's what the press were calling the PM until last week, when she was forced to abandon her plan to scrap free lunches for primary school kids. The move would've hit nearly a million families, but it's likely some of the businesses that once relied on the lucrative kids lunchbox market would've welcomed it.
In this report
Or would they? The 2014 introduction of free school meals for five to nine-year-olds presented a huge challenge to the industry. Within two years, the number of primary school-aged kids eating packed lunch had fallen 47.6% [Kantar Worldpanel 52 w/e 11 September 2016]. That's 106.6 million fewer packed lunches. With the average price of a packed lunch then at £1.21, that works out as a loss of nearly £130m in potential sales.

Yet many players who have traditionally relied on kids lunchboxes are in rude health. In March, our Britain's Biggest Brands report revealed that brands such as Dairylea, Hula Hoops and Cheestrings were in solid growth [Nielsen 52 w/e 31 December 2016], thanks in part to aiming for older kids and positioning products as after-school snacks.

Further analysis reveals an astounding turnaround for the lunchbox market. In the year to 26 February, Brits packed just shy of two billion lunches; that's only 2.9% fewer than in the year ending 29 July 2014, the final school term before the free school lunch initiative began. That's because more adults are packing lunch. Over 16s' share of occasions has grown from 77.4% two years ago to 81.3%, with the 25 to 34-year-old and 45 to 54-year-old age groups showing the strongest growth.

"The lunchbox has returned," says Kantar analyst Adam Scott. "Overall consumption of lunchboxes took a heavy hit with the introduction of the free school meals initiative in primary schools in August 2014. Now, due to a mighty rise of 82 million occasions (4.4%) in the past 18 months, lunchbox occasions are at a higher level than two years ago and the initial negative impact of the initiative on lunchbox consumption has been negated."

Everyone from the big bread brands to meat snacks players, savoury slice manufacturers such as Ginsters through to yoghurt and cheese brands is looking to win some space in adults' lunchboxes.

Adults

"The packed lunch has had an adult makeover and is moving away from the traditional sandwich, fruit and crisps combo with a number of new ingredients, flavours and formats taking centre stage," says Felipe Castillo, head of innovation for Europe & Eurasia at chicken snacks brand Grabits. "A large demographic that's tapping packed lunches as a trend is millennials - the packed lunch has almost become a contest among co-workers as to who has the most interesting lunch."

Co-workers and Instagrammers, it seems, with more than 51 million hits for the #lunch and two million for #lunchbox on the social media site. This has led to Brits spending more time packing their lunchboxes, with those consuming one for health reasons spending, on average, an additional one minute and 24 seconds preparing it. They're spending more money, too. "We've seen an increase in the value of lunchboxes from £1.21 to £1.23 in the past year," adds Scott. "While this may seem like pennies, this equates to an extra £39m in value."

Big bucks are up for grabs for the right proposition, and while Brits are getting more adventurous, the sandwich remains king of both the carried out and in-home lunch. Sarnies made an appearance at an additional nine million carried out occasions, meaning they are present in 60.9% packed lunch occasions. But even the humble sarnie is evolving. Brands say the likes of thins, bagels and even toastie pockets are increasingly taking the place of standard bread.

"As the wrapped bakery category continues to face challenges similar to those affecting the wider food industry, such as price deflation and shifting consumer habits, our focus remains on how Warburtons can continue to build on its responsibility as market leader," says David Tittensor, Warburtons category development director. "One part of this is ensuring we have a forward-looking focus, identifying how we can tap consumer needs and changing consumption trends, like lunchtime eating habits, and responding to these with top quality baked goods."

Cheese, meanwhile, is increasing its presence as a sandwich filler with occasions up 4.1% (see right). "Against a backdrop of sliced bread decline, cheese participation in sandwiches has increased," says Amy Fisher, Dairy Crest shopper marketing controller.

Cheese consumption is being driven by another need as well: snacking. "The prepacked cheese snack sector has seen strong growth in the latest year, posting 4% volume and value growth across total grocery, fuelled both by kids' snacks and by an expanding adult snacks sector, which has seen an 8% year-on-year volume increase," adds Fisher.

Dairy Crest has gone after the adult cheese munchers with its Cathedral City Snack Bar in Mature and Mature Lighter variants, which have recently launched into multipacks. This builds on the 5.8% value growth the manufacturer says it's seen within its Cathedral City adult snacking range over the past year, thanks in part to distribution gains for Snack Packs and the Selections Mini Bag.
Lactalis McLelland and Kerry Foods are also eyeing adult lunchboxes and developing snack products to win some space in them. The former launched Seriously Squares in June 2016, while Kerry extended its cheese snacking options with GoGos - a mix of cheese, beans and other snacks that bear a striking resemblance to the Graze snack range - in February this year. This is to tap the evolving nature of how people are consuming their calories, according to the manufacturer.
Lunchbox category snapshot
"Many people are choosing more and more to eat at their desks, and more than 70% of consumers are regularly missing one meal a day, preferring to graze little and often," says Kelly Gregg, category controller at Kerry Foods. "As a result, we're seeing a shift when it comes to NPD and innovation in this area, with brands introducing options that fit consumers' busy lifestyles that offer them the nutrition they need for the day."

Cheese's growing share of lunchboxes could in part be explained by consumers' growing demand for protein. "As shoppers become more informed and aware of the power of protein and its contribution to a healthy diet, more busy workers will start to pack their lunchboxes with snacks that deliver these sorts of benefits," says Nick Morgan, a nutritionist at Bounce Foods.

There's no shortage of lunchbox-friendly protein NPD either, from a torrent of meat snacks - Peperami Beef to RH Amar's Top Herd range - to The Collective's Pro-Yo pouches and even Warburtons high protein bread. Products such as these particularly resonate with the meal-prepping trend, made popular by lifestyle and fitness bloggers and social media stars such as Joe Wicks.


Cooked meat
It's perhaps not surprising, then, that savoury snacks have appeared at 18.7% - or 34.6 million - more carried out lunch occasions over the past year. Cooked meats, however, have not been so lucky, with a 0.7% drop-off in the number of lunchboxes they appeared in. Michael Holton, brand & marketing manager, Addo Food Group, believes consumers are looking for more exciting things from their lunchbox: "Consumers are now demanding more product choice, with demand for higher protein foods at lunch, more unusual flavours and substantial food options as an alternative to sandwiches, and lighter bites for grazing throughout the day."

A collaborative approach between the packed lunch's natural rival, food-to-go lunchtime meal deals, also shows potential, although much of the power lies with the retailer, believes Holton. "Meal deals and convenience retail form a core element of the lunch market, with 70% of 18 to 40-year-olds looking for meal deal options. However, lunchbox is a growth area among this same demographic, and one that shouldn't be overlooked," he says. "For example - merchandise your food-to-go, meal deal options or snack options near your cooked meat/lunchbox food. That way you can drive sales from snacking to larger lunchbox purchases or move lunchbox purchases to meal deals."

This is, arguably, easier said than done. Particularly as the range of food and drink Brits deem lunchbox-suitable evolves. "Retailers are very aware of the shift in focus on who is buying lunch items and which non-traditional lunch items are being chosen for this occasion," adds Castillo. "Meal deals, for example, are no longer limited to sandwiches, chocolate, crisps and a drink. Retailers are meeting consumer demands by bringing a much broader range of products into the deal, making the meal deal more accessible for a variety of consumer needs."

Indeed, products as diverse as Bounce Energy Balls, Soreen Malt Loaf Bars, fresh fruit packs and even ice creams (at One Stop, since April) can now be bought as part of a meal deal. "Customers now have a huge choice of meal options," said One Stop head of proposition for franchise Gavin Levi on announcing the inclusion of a number of Unilever ice creams in its £3 meal deal in April. "This means our franchisees enjoy a great footfall driver courtesy of what has become a real destination for customers."
Meal deals
The widening of meal deal ranges mirrors the growing variety in the nation's lunchboxes. Taste, unsurprisingly, is the biggest motivator of choice of food for Brits when they are packing their lunch, accounting for 64.2% of choices. Ease of preparation is the next biggest motivator at 21.5%, followed by health at 15.6%. That a food is filling - a claim often made by manufacturers of high protein products - is the fastest growing motivation, with an extra 30.7% of lunchbox choices made for this reason. Other motivations on the rise include ease of preparation, more natural/less processed and low in salt, fat or sugar.

It's not just fresh fruit, which has appeared in 3% more packed lunches in the past year, reaping the benefits. "Following the surge in demand for healthier lunchbox options, retailers are responding accordingly, by upweighting appropriate shelf space and increasing their commitment to fruit snacking among other 'lunchbox' promotions," notes Emma Howgego, marketing director Bear and Urban Fruit owner Urban Fresh Foods. "For example, fruit snacking was afforded an increased level of secondary shelf space during September's Back to School promotions last year, with 100% natural products, such as Bear pure fruit Yoyos featuring alongside crisps, nuts & snacks and biscuit brands, in a number of major retailers."

The desire to be healthy has also led to innovation in the containers for lunchboxes. "We're seeing a huge growth in snacking products and in particular specific use products such as our Snack Box and Snack Tube Trio," says Sally Turno, marketing manager for Australian lunchbox manufacturer of Smash Global. She also notes growth in its Nude Food Movers range, designed to end the need for disposable packaging.

Turno adds that the concept of Nude Food is benefiting from the nation's growing health-consciousness, with the range designed to contain products such as fruit, vegetables, nuts and seeds. "The Nude Food Movement has expanded due to the increasing amount of people making their health a priority through creating their own meals to eat while on the go," she says.


Portion control
Brits aren't ditching the biccies and crisps, though - chocolate biscuit bars appeared in 10 million extra packed lunches and crisps in an extra 22.9 million. But they may be switching to smaller portions. "Lunchbox consumption can partially be attributed to a trend for healthier eating," says Andy Riddle, sales director at KP Snacks. "Here, smaller pack sizes play a key role, with 54% of people saying small packs help them cut calorie intake."

Tapping this, and the protein trend, KP Snacks recently launched its handy-sized nuts and energy mixes in a four-strong range comprising Original Salted Peanut, Dry Roasted Peanuts, Fruit & Nut Energy Mix and Orange Nut Fudge Energy Mix.

Border Biscuits has also rolled out smaller formats in the form of the Snack Pack, which contains eight individually wrapped Mini Packs including Viennese Whirls, Butterscotch Crunch, Divinely Choc Chip Cookies and Crunchy Oat Crumbles. "We're noticing that with consumers being more health-conscious. They prefer to treat themselves with a good quality premium biscuit, rather than an everyday variety," says brand & innovation director Lesley Ann Gray.

Mondelez International, meanwhile, rolled out Oreo Thins, available in multipacks, in January 2017. "Retailers should ensure that their offering includes user-friendly products that make lunchtime snacking simple and convenient," claims Susan Nash, trade communications manager.

Striking the balance between taste and health becomes even more difficult when it comes to kids' lunchboxes. And in spite of the impact of the free schools initiative, 321 million packed lunches have still been eaten by kids aged between five and 15 in the past year, the equivalent of £395m in potential sales. "The initiative had the greatest effect on consumption among five to nine-year-olds, reducing their consumption occasions by 48% compared with before the initiative came into action," adds Kantar's Scott. "Although the decline's now plateaued, there has been no bounceback for this age group."


But there has for kids aged 10 to 15. A year after free schools were introduced, the number of packed lunches being consumed by this age group was down 12.8%, but in the past year that number has bounced 5.5% to 204.2 million occasions. Numbers like that still represent a lucrative opportunity.

So long as you can develop the right product. "Despite this surge in health trends, the children's lunchbox segment remains challenging for many parents, often containing unhealthy snacking products, making it difficult for them to regulate their children's diets," adds Howgego. "The latest Children's Food Trust report on lunchboxes showed that 86% of parents are worried about this."

Chocolate biscuits, crisps and sugary drinks are routinely being consumed at schools, the report found, with Mr Kipling, Hula Hoops and Capri-Sun orange juice drinks singled out for their high level of sugar or salt. Drinks have proven particularly sensitive to such criticism. "The lunchbox drinks market has declined 11% in volume and 14% in value since 2014," says Jonathan Barr, marketing director at Princes, which owns Jucee. "This is down to the media attention on sugar, the introduction of free school meals and the Tesco lunchbox range reset in October 2015, which removed all added-sugar products."

Barr notes the packed lunch occasion still accounts for a third of lunchbox drinks consumption, meaning getting the format and product type is crucial.

Cutting sugar is crucial. Milkshake brand Yazoo, for example, released a no-added-sugar range in September, sold as singles and as a 4x200ml multipack for lunchboxes. The brand expects the coming sugar levy on soft drinks to make the range more attractive to parents.

Coca-Cola European Partners is making similar moves. "Our next step is the reformulation of the regular Capri-Sun flavours across the 330ml and 200ml pouch formats," says Simon Harrison, operational marketing director at Coca-Cola European Partners, which saw Capri-Sun's volumes fall 10.6% in 2016 [IRI].

"From the early part of 2018 they'll contain 50% less sugar, bringing the variants below the soft drinks levy threshold but still delivering the same great taste."

CCEP told The Grocer in April that it's spent £30m on reformulating its products to contain less sugar since 2012. Others have been making similar investments to get into lunchboxes. Perhaps there really is no such thing as a free lunch after all.