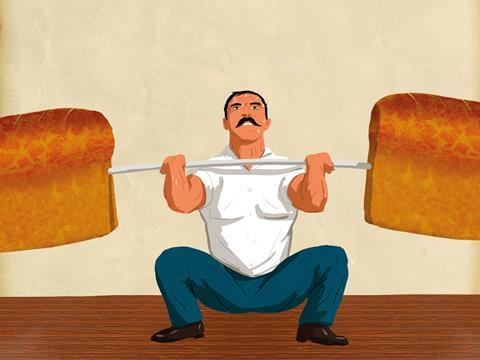 Wrapped bread is back in growth after four consecutive years of decline. Yet this is no time for Britain's bakers to throw their hats in their air in celebration. The number of Brits eating bread on a daily basis is plummeting, according to further research for The Grocer.
Video: Why Brits are ditching bread
It's the economy, stupid. Or at least in part. Bread's return to growth is partly down to price inflation, driven by the soaring cost of wheat and other commodities. Market value has inched up by 0.3% to £1.4bn on volumes that have dipped 0.5% [Kantar Worldpanel 52 w/e 21 May 2017], indicating that the average price for bread in British supermarkets has risen 0.7% in the past year.
Yes, that's a relatively small increase, partly because the 52-week period these figures represent include the period of deflation that preceded the inflationary influence of last June's Brexit vote, but many say prices will continue to rise. And given how widely bought bread still is – in spite of its waning popularity – any price rise signals that disposable incomes may be set to be squeezed further.
"Bread and bakery is the most consumed food item in the UK, bought by 96% of the British population and appearing in more shopping baskets than any other category," says Zoe Taphouse, category director at Kingsmill brand owner Allied Bakeries.
So the price of bread matters. But that's not the only factor affecting bread and the wider baked goods sector. Thanks to growing demand for more convenient food options from increasingly time-pressed consumers combined with changing concepts of healthy eating, fewer people are buying good old-fashioned sliced bread.
Hovis market strategy & planning director Ed Milner points to one particular health trend. "With 31% of infrequent bread consumers reducing their bread consumption due to focusing on a lower carb diet, Hovis has spotted a gap in the market to appeal to this lifestyle choice," he says. "Hovis Lower Carb contains 30% less carbs than normally found within an ordinary loaf of bread (see below)."
Infographic: Who eats bread every day?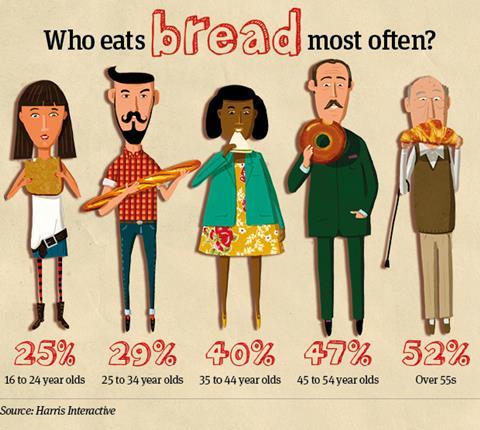 Indeed, the 96% of Brits that Allied Bakeries says buys the stuff today is down from 99% in 2010 [IRI 52 w/e 20 February 2010]. What's more, 42% of Brits now eat bread on a daily basis, down from 52% two years ago, according to a Harris Interactive poll of 2,036 consumers for The Grocer. This fall is driven by the young, with those aged 16 to 24 almost half as likely to eat bread daily as over 45s.
"Our youngest consumers are not big bread eaters," says Harris Interactive head of research Lucia Juliano. "The frequency of bread consumption increases with age. Just a quarter of 16 to 24-year-olds are eating bread every day, doubling to over half of those aged 55 or above."
How bread can appeal to carb-dodging youngsters
So the Love Island generation is off their loaves. It's not surprising considering the recent focus on protein and the fact that an 800g carb-filled loaf doesn't exactly fit with their lifestyle. We tasked creative agency Duke to change this by coming up with a product that reengages the younger consumer – one that speaks to them.
Introducing the Hovis Gun Bun – it's well fit bread. "Marketed with the tongue firmly placed in the cheek, this would be a serious supplement but aimed at the younger guys and gals who aspire to look like a contestant from Love Island," says Jo Tanner, creative partner at Duke. "The tone would be kitsch and playful, reflecting the lifestyle side of fitness and its unashamed inherent vanity."
The Gun Bun is designed as a nutritious post-workout snack, either on its own or with fillings, with a focus on refuelling with protein and carbs. The individually wrapped buns, to be sold in a six-pack, are "ideal for throwing in a gym bag". Focusing on a ratio of 3:1 of carbs and protein, they're made with ancient grains, sweet potato, pumpkin or banana for a low GI carb boost, and spelt or gram flour for protein along with flax, hemp, sunflower and pumpkin seeds for an added boost.
"Carbs are taking a beating right now with the Atkins diet and the Kardashians cutting them out," adds Kate Tweed, Duke's business director, "but they're important when it comes to recovery after working out. This is about making carbs relevant for a new audience."
Advertising is a key part of this, directly targeting those who are into fitness. For example, by advertising on Mapmyrun, and sponsoring races (hence the toned bottoms in the pics above). "Lines such as 'Woah! You ain't crossed the finish line yet Mr Bolt' play to our strategy that you haven't truly finished your workout until you've refuelled properly with a gun bun," explains Tanner. "There's a gap in the market begging for something with a fun tone like this."
And, if that wasn't appealing enough to the Love Island fans, teaming up with Club 18-30 for the Guns 'n' Buns showdown in Ayia Napa surely would be. After all, sun's out, gun (buns) out.
Premium loaves
It's not just economic factors driving up the price of bread and baked goods. Consumers are also plumping for more premium loaves. Sales of brown bread – which sells for an average of 31p per unit more than white, at £1.20 – have risen 13.3% on volumes up 14.8% [Kantar].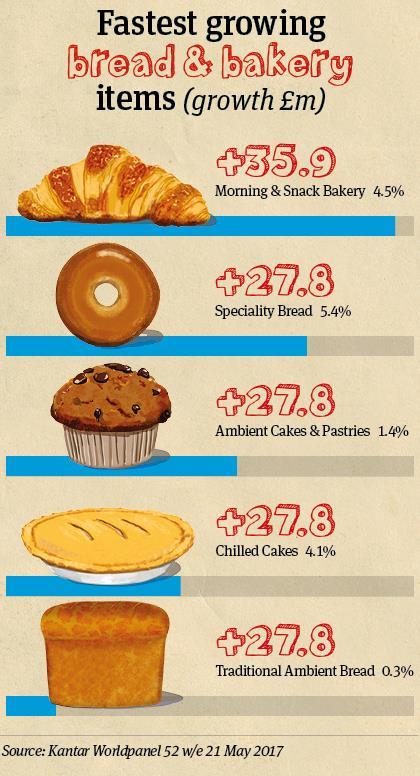 Baked goods such as pastries and snacks have contributed most to bakery's overall growth with value up 4.5% on volumes up 2.9%. Rising average prices in this sector have partly been driven by the soaring cost of butter being passed on to consumers, says Kantar.
Freshly baked loaves such as rye breads and sour doughs from in-store bakeries are also in growth, says Kantar analyst Claire Liboureau. "Speciality bread is in long-term growth driven by shoppers switching spend from traditional to speciality bread," she says.
"As consumers look for a wider range of options beyond a standard loaf, we have seen sandwich alternatives grow by 4.8% and bakery favourites grow by 3.3%. Rolls are also making a comeback with sales up 5.1%."
Another factor is the growth in smaller households, which means there is less demand for standard 800g loaves. Taphouse claims sales of smaller loaves, which carry a higher price per kilo, have surged by 56% in the past year, pushing up average prices overall.
She adds: "As consumers look for a wider range of options beyond a standard loaf, we have seen sandwich alternatives grow by 4.8% and bakery favourites grow by 3.3%. Rolls are also making a comeback with sales up 5.1%."
NPD gallery: How brands are trying to beef up bread
1. Hovis Low Carb range: Hovis became the first major bakery brand to unveil a lineup of low-carb wrapped loaves in June. The trio of 400g loaves – Soft & Tasty White, Tasty Wholemeal and Deliciously Seeded – promise 30% fewer carbs than typical sliced bread.
2. Mission Deli Mini Cheese Wraps: With Brits swapping bread for wraps more than anything else, Mission Deli has expanded its range of Mini Wraps with a cheese variant. The brand says they're ideal for smaller hands and smaller appetites.
3. Genius Breakfast Bakes: Genius tapped the trend for gluten-free and on-the-go breakfasts with its soft-bake Breakfast Biscuits. Available in three variants – Cranberry & Oat, Chocolate Chip & Oat, and Honey, Raisin & Oat – they come in packs of five individual portions.
4. Kingsmill Super Toasty: Allied Bakeries is focusing on the breakfast occasion with its Kingsmill Super Toasty loaf. The 750g loaf uses a blend of flours, including semolina, allowing the bread to crisp up on the outside while remaining soft in the middle.
5. Warburtons Gluten Free Crumpets: Following the success of its Giant Crumpets, Warburtons has rolled out a regular-sized gluten-free option under its Newburn Bakehouse sub-brand. It taps into the increasing demand for morning goods and gluten-free options.
Infographic: What would make Brits buy more bread?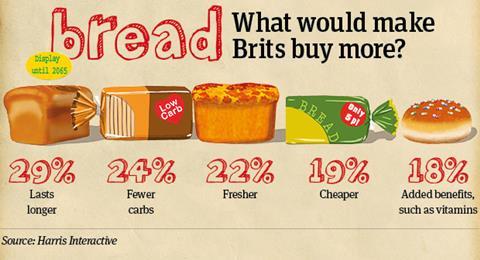 As the above graphic shows, Hovis (and indeed Duke with their Gun Buns) could be on to something with their lower carb bread. "A quarter would buy more bread if it had fewer carbs, and a fifth of those who have swapped bread in their sandwiches say they have opted for a low-carb substitute," says Juliano.
"Manufacturers would benefit from addressing how they can provide consumers with more low-carb alternatives to bread, as our research suggests that despite the range of baked products that are already in the market, there is still a demand for these low-carb options."
Thanks to…

Harris Interactive , a full-service digital consultative custom market research agency, polled more than 1,000 consumers for The Grocer for this article.

With its 30,000-strong consumer panel, Kantar Worldpanel is a leading consumer and shopper insights provider. Kantar provided sales and usage data and analysis for this article.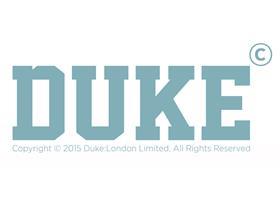 DUKE is an independent creative agency founded by Neil Hughston, Mark Howard, Jo Tanner and Steve Stokes. Duke created the Gun Bun concept.