The inconvenient truth: What Brits really think of c-stores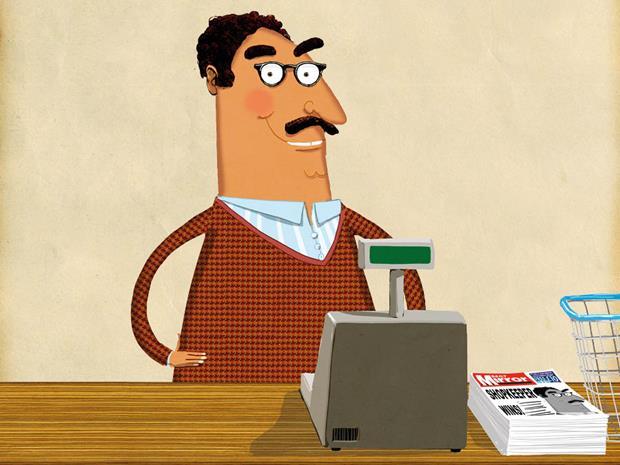 Inconvenience stores: the lowdown
Convenience is king, right? Perhaps not. The Grocer can reveal 42% of Brits would prefer to shop in larger stores even if they are further away. What's more, 38% admit they only pop to the c-store if they're desperate, with many blaming the lack of availability and high prices for this.
Fifteen per cent of consumers say they prefer to shop in their local c-store, although this peaks at 26% of those aged from 25 to 34. "Something clearly isn't working for shoppers," says Lucia Juliano, Harris Interactive research sector head. "The grim reality for so many c-stores is that they have a limited range, are inadequately stocked and over-priced, so they often become the place to go when needs must rather than out of choice."
And the idea of the friendly neighbourhood shopkeeper is dying as well, as most consumers don't even believe they are getting a more personal experience from their local c-store.
"Many franchisees recognise the need to have a conversation with customers, but are lacking a story to tell," explains David Martin, joint MD of retail strategy and design consultancy M Worldwide. "This could be anything from specialist products, health, treats, family business values, the promotion of third party specialists and even local suppliers."
This, Martin adds, is a result of symbol groups being caught in a so-called no man's land between being a corporate multiple and a truly local independent. "Historically food groups have tried to improve standards and create consistency across a range of areas, including branding and marketing. The result can be a rather bland/neutral and homogenised experience and environment," he notes.
With that in mind, how are smaller chains viewed in comparison to the major multiples?
How do c-stores stack up against the mults?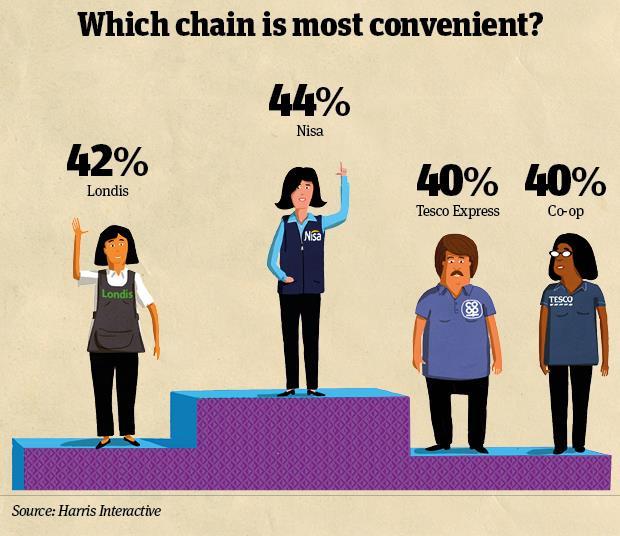 Nisa topped the charts, with 44% of those polled voting it as the most convenient retailer in our exclusive poll, followed by Londis with 42%. Tesco Express and the Co-op came in joint third, with 40% of those polled giving them top marks for convenience.
"Our stores are independently owned with many having very strong links with their local communities that the big four cannot replicate," says a spokeswoman for Nisa. "In many of our member stores retailers know their customers by name and they provide the personal touch that only truly independent retailers can offer."
Spar, One Stop and Best-one did well, as did the big four and the discounters. Asda, Morrisons, Sainsbury's and Tesco scored top for convenience by at least 30% of consumers, alongside Aldi.
"The major mults tend to score as well, and sometimes better, than traditional c-stores for being convenient," adds Juliano. "It just goes to show that being convenient is about more than just location, location, location. There's no point being in the right place if the rest of the mix isn't right – shoppers expect the right products at the right price in a welcoming environment."
Indeed, 18% of Brits would be more loyal to a convenience store if it had better customer service, but this was ranked fourth behind lower prices (65%), better availability (42%) and better-quality products (33%). The good news is that while there's a lot to improve on, only 11% say nothing would encourage them to be more loyal to their local convenience store, preferring to stick with the mults. That opens up a world of opportunity for the nation's c-stores.
Inspiration from across the nation
Here's a look at how some of the UK's retailers are jazzing up their stores.
1. Daily Deli: Food on the go is a key component at Spar Rocket Stores, Bolton with a wide array of grab and go lunchtime meal deals. This sits alongside a staffed Daily Deli counter offering up build-your-own sandwiches and hot food, such as paninis.
2. Sushi bar: Thornton's Budgens teamed up with London sushi specialist Maido to offer customers at its Belsize, North London store fresh sushi and sashimi on the go. Customers can order to specification for pick-up later and a home delivery service is in the pipeline.
3. Store redesign: In January 2017, Costcutter launched a new brand and store design, as shown by the Darfield, South Yorkshire store. The flexible modular approach allows retailers to invest at their own pace with a focus on their customer's key shopper missions.
4. Store of the future 2: Nisa scrapped its one-size fits all concept to give members more flexibility on how their store looks, with nearly 300 stores converted to the Store of the Future 2 fascia. The new format will cost members between £10,000 and £250,000.
5. In-store butcher: Local produce was a key consideration for the Eurospar Maghaberry, Northern Ireland store which has teamed up with a Fosters Traditional Butchers to offer its customers fresh local meat via a meat counter.
The real deal: how important are lunchtime meal deals?
If retailers weren't aware of the importance of their lunchtime meal deal offering, last year's Sandwichgate debacle would have made them think twice about it. But when it comes to c-stores, how important are the deals, and what is included in them, to consumers?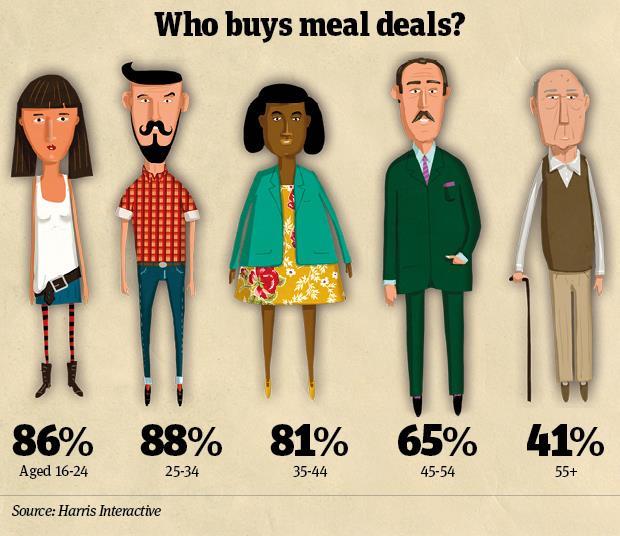 Younger consumers (see above infographic) are far more likely to pick up a meal deal, with just 14% of those aged 16 to 24 saying they never buy one compared with 59% of those over 55. And, our research reveals, it's the younger generations who are far more likely to pay close attention to the items they choose – with 32% only purchasing items included in the meal deal.
Worryingly for c-stores, 10% of Brits say they wouldn't buy a lunchtime meal deal from a convenience store, and those who do shop there aren't entirely happy with what's on offer.
"Just 15% are happy with the lunchtime meal deal offer in c-stores, but two-thirds either don't shop lunchtime meal deals or simply buy whatever they want regardless of the offer," adds Juliano. "On the surface, this suggests lunchtime meal deals are less important. However, this masks the key reason meal deals exist – to drive footfall. A compelling lunchtime offer is a clear footfall driver for so many retailers, with the key benefit being the extra basket spend that accompanies the transaction."
The biggest improvement c-store owners could make would be to include hot food in their deals, with a quarter of those polled asking for this alongside healthier options. Twenty-one per cent also want coffee to go to be added and a further 13% say there are not enough vegetarian or gluten-free items on offer.
There's also an opportunity to increase spend on meal deals further, as 21% say they'd like to see a two-tier system introduced to allow more premium options to be included.
Food for thought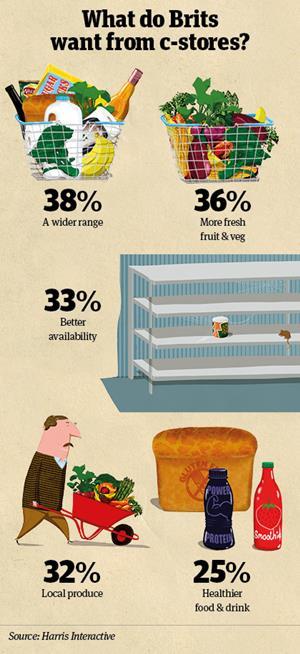 Our research (above) might be a lot to take on board, but many are already making headway by extending their ranges and focusing more on local produce.
Own label presents c-stores with a prime opportunity to offer shoppers something different to the mults. Ranges have been scrutinised, improved and extended where necessary.
Nisa, for example, expanded its fresh and food to go categories by modernising its sandwich range, introducing salads, protein pots and dipping pots. Most recently, it added cake snacks.
"Own label shoppers spend more than the average shopper, purchase more items and are more likely to recommend the store and so developing our own Heritage label is a key focus for Nisa," adds the spokeswoman. "We introduced new barbecue lines as well as extended our Gourmet sausage and beef burger ranges. Most recently, we introduced our first own label Heritage wine."
It's not the only one. New additions to the Spar range includes cheesecake pots, roast in the bag chicken and modern confectionery flavours, such as watermelon sours and bubblegum mushrooms, as part of the three for £1 price point on own label impulse bags. Tapping the on-the-go trend, Spar also developed a range of 13 healthy snacking products.
The meal for tonight occasion is also set to feature prominently which a spokeswoman for Spar describes as "the most valuable shopping mission". "Spar will be driving distribution of its evening meal component products and linking the Easy Meal Ideas campaign in-store with key selling plan events – for example – Father's Day, bank holidays, events like Spar-BQ, Picnic, Mediterranean and 'Big Night In' events," she explains.
Others things consumers want to see include more craft beer and spirits, coffee to go and community events such as wine tasting and cookery classes.
"Shoppers want it all – which is a tough ask if you're a c-store operator," says Juliano. "In a world where we can order c-store essentials from Amazon Prime Now and get them delivered to our doorstep within a two-hour window, the challenge for c-stores is becoming more and more complex." 
Creative challenge: Could an Argos-style system work for c-stores?
There's no doubt about it, shoppers are demanding more than ever from their local c-stores. So, what can store owners do when facing this seemingly impossible task? The Grocer asked M Worldwide to find a solution, and it took inspiration from an unlikely place: Argos.
Bear with us. While joint MD David Martin admits the concept is rich in "blue sky" thinking, there are elements within it that, he believes, are easily transferable to the average c-store.
"Over the years there has been this shift by symbol groups to become more like the multiples. But actually, at a local level, there is a desire for more independent retailers who can professionalise the concept of being independent," Martin says. "What we've done is provide a framework that allows more people to still do things in a professional way but more tailored to their local customer base, whether that's in fresh food, food to go or any other services."
On a practical level, M Worldwide's concept sees the reduction of traditional packets, tins and commodities to create space for added-value items, fresh food and ultimately in-store theatre, which allows retailers to address the needs of their consumers at different times of day.
We're not suggesting c-stores do away with loo roll, bread and baked beans altogether. That's where the Argos model comes in, as Martin explains: "Distressed purchases are still a key element, but does milk and loo roll really need to be the main attraction? We've developed an Argos-style model with a storage room for essentials creating space at the front of store for more interesting things."
Martin sees it as a self-service style system where things are ordered via a screen, and then are then delivered to the customer at the front of store. And, to streamline the system, shoppers can pre-order via an app on the way to the shop and pick it up upon arrival.
The space that has been freed up could then offer interactive stations such as a hero area for freshly baked goods, a packaging-free area featuring local craft beer, cider and wine, snacks or even household products such as laundry detergent. "This will help create repeat footfall as people are engaged with the product," Martin adds. The guest brand zone also offers this, and acts like another type of featured space for international but also local brands.
"It's much more interactive and engaging than a load of dead ice creams in a freezer," he says. "Rather than a big pile of Coke bottles, or something else, this is a new way to look at featured space that meshes with wider food trends rather than looking like you're shifting a commodity product."
The final aspect, in the form of a service counter, adds a personal touch. "The service zone is like a DJ booth," Martin notes. "People can pay for things there but the person behind it is also manning the food to go, a coffee counter and so on. It puts the resources and services at the fingertips of the person running the store, so service becomes a much bigger proposition."
It also gives retailers a much-needed story to share with their customers and the opportunity to deliver service with a smile. Whether M Worldwide has hit upon the c-store of the future remains to be seen, but it certainly presents food for thought as the competition increases.
Thanks to…

Harris Interactive, a full-service digital consultative custom market research agency, polled more than 2,000 consumers for The Grocer for this article. 

M Worldwide is a retail strategy and design consultancy which develops brand experiences, environments, and service design. The team designed the creative challenge concept.