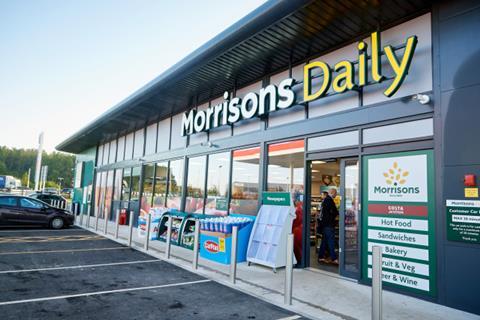 Top story
Beleaguered convenience chain McColl's has admitted it is on the brink of administration as rescue talks to save the group are come to a head.
The chain issued a stock market announced after close of trading last night, in response to a Sky News story that it could call administrators in as early as today.
McColl's said talks with lenders and key stakeholders, including partner Morrisons, were continuing regard potential financing solutions to resolve "short term funding issues" and "create a stable platform for the business going forward".
However, it confirmed "unless an alternative solution can be agreed in the short term, it is increasingly likely that the Group would be placed into administration".
Such a move would be with the objective of achieving a sale to a third-party purchaser and "securing the interests of creditors and employees".
Even if a successful outcome is achieved, it said, it is likely completely wipe out shareholders.
Sky News had said thousands of jobs were "at risk" given McColl's employs about 16,000 people and 6,000 on a full-time equivalent basis.
At its last stated accounts McColl's said debt had risen from £89.6m at the close of 2020 to £97m.
Sky suggested the group now carries debt of almost £170m, primarily owed to a banking syndicate including Barclays, HSBC, NatWest Group and Santander UK.
Sky News said convenience store partner Morrisons has been seeking to strike a deal for banks to write-off some of this debt in exchange for the supermarket injecting new capital, but no deal has been able to be struck.
McColl's said a further update will be made "as and when appropriate".
Morning update
On the markets this morning, the FTSE 100 has fallen back 0.8% to 7,447.2pts so far this morning.
Risers include McBride, up 2.1% to 35.5p, Glanbia, up 2% to €11.49 and AG Barr, up 1.8% to 592.5p.
McColl's has fallen back 44.1% to just 0.64p.
Other fallers include Ocado, down 3.8% to 798.2p, FeverTree, down 3.7% to 1,631.8p and Naked Wines, down 3.4% to 350.5p.
Yesterday in the City
The FTSE 100 closed the day up 0.1% to 7,503.3pts despite warnings from the Bank of England that the UK is most likely heading into a recession as they raised interest rates.
However, there were a number of heavy consumer stock losses, including Just Eat Takeaway.com, down 10.7% to 1,809.8p, Domino's Pizza Group, down 7.2% to 308.8p, Ocado, down 6.9% to 830p, Virgin Wines, down 6.5% to 107.5p, Deliveroo, down 6% to 97.5p, Pets at Home, down 4.7% to 294.4p and Marks & Spencer, down 3.5% to 135.9p.
Risers included Nichols, up 2.6% to 1,375p, McBride, up 2.1% to 34.8p, Associated British Foods, up 1.9% to 1,600p, Coca-Cola European Partners, up 1.7% to €48.05, Hilton Food Group, up 1.6% to 1,168p and Imperial Brands, up 0.8% to 1,673.5p.