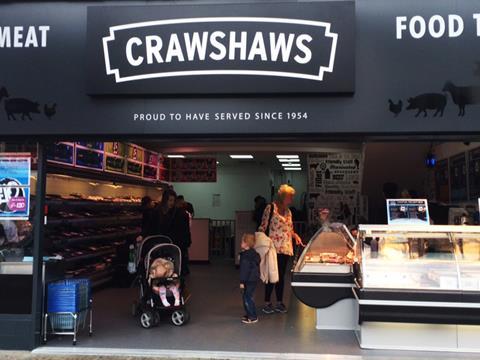 Top story
High street butchers chain Crawshaw Group (CRAW) has announced plans to hire administrators, admitting it does not funds for a necessary restructure.
Shares in the AIM-listed retailer have been suspended this morning as it seeks to secure a rescue deal.
On Friday 26 October, the group announced it was in discussions with existing and prospective investors for a capital equity fundraise.
But the company has now confirmed that it has not been able to raise the funding needed to restructure the ailing business and address key issues identified.
Crawshaw Group currently has 12 factory shops and 42 high street stores across the UK.
As a result of "operational and financial uncertainty" it is facing, the Yorkshire-headquartered business's board confirmed the decision to place it in administration.
It intends to appoint administrators shortly with the purpose of seeking buyers for the group's business and assets on a going concern basis.
"The Company does not have sufficient cash resources to effect the required restructuring of the business," the company directors said in a trading update.
"In the light of the above and the operational and financial uncertainty which the Company now faces, in order to protect both shareholders and creditors, the Board has taken the decision to place the Company into administration and intends to appoint administrators shortly with the purpose of seeking buyers for the Group's business and assets on a going concern basis."
The Group reported a 1.9% fall in sales to £21.6m in its half-year results for the six months ended 29 July 2018, sliding from £22.1m in the same period in 2017.
It also fell further into the red, as pre-tax losses slipped from £1.2m last year, to £1.7m for the period in 2017.
On 29 July it had cash and cash equivalents of £3.3m, down from £6.8m on 30 July 2018.
In an attempt to revitalise the business, Crawshaw hired Jim Viggars and Nick Taylor as its new chief executive and chief financial officer, respectively, over the summer.
The pair identified the core issues affecting the business, including a retail portfolio with too many high street stores and currently not enough factory shops.
Morning update
Sugar-free drinks and bottled water drove strong organic growth at Coca-Cola, despite an overall slump in third quarter sales.
Total revenues slipped 9% to $8.2bn at the US soft drink giant as it refranchised its company-owned bottling plants.
Organic revenues grew 6%, driven by 18% growth in Latin America, alongside a 9% jump in sales in Europe. Pre-tax profits grew 70% to $2.8bn in the third quarter.
"We continue to be encouraged by our performance year-to-date as we accelerate our evolution as an even more consumer-centric, total beverage company," said James Quincey chief executive of the Coca-Cola Company.
The recent leadership appointments are intended to help accelerate the transformation of our company."
GfK's long-running Consumer Confidence Index decreased by one point in October 2018 to -10 as worries over a no deal Brexit persis..
Joe Staton, Client Strategy Director at GfK, commented: "The recent claims about the imminent end of austerity, and the good news of lower retail price inflation and accelerating wages growth would normally be sufficient to boost consumer sentiment.
"But the core Index slipped again this month. The prospect of a no-deal/hard-deal Brexit must surely be weighing heavily on people's minds, injecting a mood of despondency as to how people view their future personal finances and the longer-term economic outlook for the UK.
We also appear to be losing confidence that now is 'the right time' to make major purchases. This will concern retailers in the run-up to Black Friday, Cyber Monday and the key Christmas trading period.
"It looks like the UK Government will need to administer an exceptionally strong tonic to the nation to settle the obvious Brexit anxieties."
The FTSE 100 has continued its upturn this morning, jump 1.3% to 7,129pts in early trading after a storming Wall Street session yesterday.
The early risers this morning include WH Smith (SMWH), up 3.1% to 1,875p, Just Eat (JE.), up 2.9% to 604p, and Smurfit Kappa Group (SKG), up 2.4% to 2,614p.
The early fallers this morning include The Restaurant Group (TRG), down 5.5% to 232.1p, Marks & Spencer, down 1.4% to 295.5p, and Wincanton (WIN), down 1.1% to 206.7p.
Yesterday in the city
The FTSE 100 closed in positive territory despite poor sentiment across most of Europe, moving up 0.1% to 7,035pts.
The top riser on the UK index was Ocado Group (OCDO), which rose 5% to 840.6p, as it and US supermarket chain Kroger signed service and operational agreements for the delivery deal announced in May.
High street stalwart WH Smith (SMWH) followed with strong growth as well, jumping 4.9% to 1,819p after it announced it has agreed a US$198m deal to buy international travel retailer InMotion to double the size of its growing travel business.
Other risers included Treatt (TET), up 4.1% to 428p, Carr's Group (CARR), up 2.9% to 151.2p, B&M European Value (BME), up 2.2% to 411.9p and Nichols (NICL), up 2.1% to 1,320p.
Frankie and Benny's owner The Restaurant Group (RTN) dived 17.3% to 245.8p as the market reacted badly to the news that it is in advanced talks to buy the Wagamama chain for around £559m.
Other fallers included Reckitt Benckiser (RB.), down 4.5% to 6,313p after yesterday's weak third quarter results, Majestic Wine (WINE), down 2.9% to 387.5p, and British American Tobacco (BATS), down 2.8% to 3,448p.