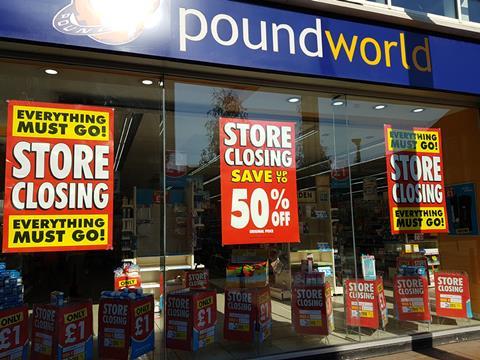 Poundworld's administrators have announced the closure of 25 branches of the high street chain while still in discussions over the sale of the remainder of the business.

The affected stores will trade for their last day this Sunday (15 July), leading to the redundancies of 242 employees next Tuesday (17 July), according to a statement from Deloitte.

The store facing the most redundancies is Derby Westfield, where 17 jobs will go.

Around 5,000 jobs have been at risk since the chain went into administration on 11 June. Around 100 of 270 head office staff were made redundant on 18 June.
Talks are ongoing over bids to buy a 'significant number' of the remaining 310 stores as well as the head office and distribution centre in Normanton, West Yorkshire, Deloitte said.

"Whilst we remain hopeful that a sale for part of the business can still happen, it has not been possible to sell the business as a whole, resulting in today's announcement," said joint administrator Clare Boardman.

"We would like to thank all the employees for their continued support and commitment during this difficult time. We are keeping staff appraised of developments as they happen."
According to reports that emerged yesterday, interested parties include Steven Smith, who founded rival Poundland in 1990 before selling it in 2002.
Poundworld's founder Chris Edwards, who sold the variety discounter to current owner TPG Capital in 2015, pulled out of the running last week, saying his best offer had been rejected by Deloitte. He had been looking to buy 186 stores, saving around 3,000 jobs.

Deloitte listed the stores set to close as: Ashton, Birmingham (Fort Retail Park), Blackburn, Bradford Ivegate Express, Carmarthen, Chester, Crewe, Denton Dual, Derby Westfield, Doncaster, Dumfries, Grays, Halifax, Hyde, Ipswich, Liverpool Belle Vale, Loughborough, Manchester Arndale Express, Middlebrook, Newcastle Wallsend, North Shields, Nottingham Broadmarsh, Stretford, Sutton Coldfield and Wakefield.