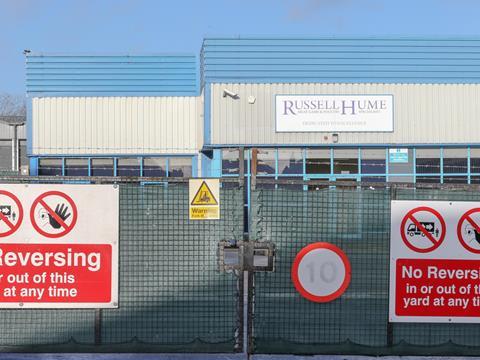 Administrators for collapsed meat wholesaler Russell Hume destroyed more than £8m-worth of meat stock after the business fell into administration in February, but managed to sell on more than £2m-worth.
A progress report, published by joint administrators Chris Pole and Mark Orton of KPMG, revealed 31 separate transactions of the supplier's remaining meat stocks were approved for sale by the FSA or environmental health officers between 19 February and 18 August, totalling £1.9m. Additional sales of £400,000 were approved shortly after this period.
However, a significantly higher proportion of stock with a book value of £8.5m was ultimately destroyed, costing the administrators a total of £160,176. A further £1.8m was generated from the sale of plant and machinery.
While stressing it had not "received any substantive update as to its progress, or the nature or extent" of the FSA's ongoing investigation into potential criminal activity at Russell Hume, it warned meat disposal costs were expected to rise once the probe was completed, as the regulator still held a large proportion of stock "under detention".
Stock was primarily destroyed because meat either had "inadequate traceability information", insufficient temperature records, was "beyond its useful life" or was "out of condition".
The administrators said some £3.3m of the company's book debts had been collected so far, from a total of £8.9m. But they warned "given the ongoing FSA investigation, product withdrawal and cessation of trade, we have received significant counterclaims from debtors in relation to breach of contract, loss of profit and reputational damage".
KPMG – which had accumulated some £1.7m in fees so far – would continue to pursue remaining debts, it said.
However, progress was clearly being hampered "due to the nature and level of the counterclaims". And while creditors were expected to receive 100p in the pound once the company was liquidated, the administrator added "it is important to note that there is potential for claims or fines to be made against the company as a result of the FSA's potential findings".
Russell Hume collapsed in February following an FSA investigation into allegations FSA CEO Jason Feeney later described as "significant and systemic" inadequate food safety management systems. A total of 295 jobs were lost.
The cost to the taxpayer of the investigation had already hit £750,000 by March, the FSA said at the time. Allegations surrounding use-by labelling at Russell Hume also prompted the regulator to increase scrutiny on other meat processors, leading to a flurry of enforcement action that saw Fairfax Meadow and Muscle Food also withdraw products over use-by concerns.
The FSA said the criminal investigation into the collapse of Russell Hume was "continuing and we are unable to provide further comment at this stage".
A spokesman added: "It is in the interests of consumers for us to pursue our investigation fully based on the evidence we find."