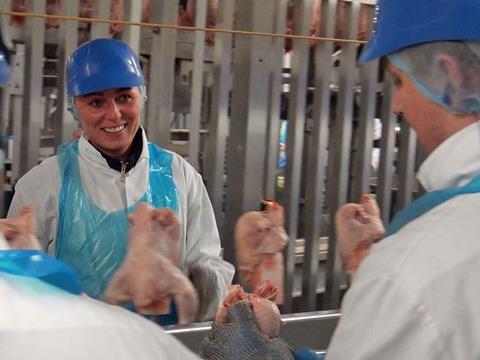 Third-quarter profits were slashed at chicken giant 2 Sisters as its core protein business slipped to a loss amid wide-reaching restructuring.

Pre-exceptional operating profits dropped 77.4% in the 13 weeks to 28 April to £3.1m. Its protein division, which makes up the bulk of its sales, posted a £5.8m operating loss in the quarter, compared with a £6.7m profit last year.

Like-for-like sales in the division rose by 1.2% to £588.6m in the quarter, but the company said volume growth had been more than offset by the "negative impact of beef, poultry and fish price inflation".

2 Sisters said it was taking "clear action" to remedy the "disappointing" performance. It has already announced four site closures to cut costs by £20m a year and is looking at further measures to improve efficiencies in the business.

Its poultry arm was the subject of a high-profile investigation by the Guardian and ITV last September, which alleged food hygiene breaches at one of its chicken plants. It was released from emergency measures by the FSA earlier this month.

One source suggested the measures it had taken to remedy these issues had reduced the core profitability of the business. "2 Sisters is losing money from its chicken business because instead of taking two days to process product it is now taking two-and-a-half days and that half day is costing a lot more money."

Overall group sales were up 1.8% to £836.7m in the quarter, representing like-for-like growth of 1.3%.

The £200m sale of its Goodfella's pizza brand to Nomad Foods meant profits after exceptional items, but before tax and interest, rose from £9.4m to £97.4m.

2 Sisters said the disposal had helped "considerably" strengthen its balance sheet and that management will focus on cash generation and tight management of capital expenditure and working capital.

Fromer Müller CEO Ronald Kers joined the business on 1 June to take over day-to-day running of the business from Ranjit Boparan, who stepped up into the role of president.

Group CFO Richard Pike has left the group after an internal restructure and will be replaced by Craig Tomkinson, currently finance director, UK & Ireland.