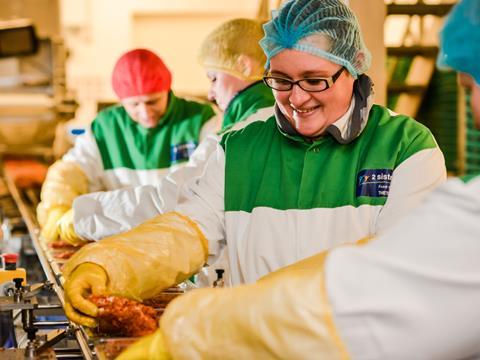 2 Sisters has shrugged off a slump in sales for the three months to 31 October, insisting it remains "on track" with efforts to revitalise its chilled and poultry divisions.
Speaking today (15 December) as parent Boparan Holdings published quarterly results to 31 October, 2 Sisters CEO Ranjit Singh said investments totalling more than £255m were now "well underway" and would "begin to bear fruit" in the year ahead.
The group blamed a big drop in chilled sales, down 5.1% to £148m over the quarter, on the impact of sandwich contracts that were not renewed. It insisted the operational turnaround of the division remained "on track", with plans to launch 100 new chilled products in this financial year.
2 Sisters announced plans to plough £55m into its ready meals business in September, and Singh said building work at its Pennine and Rogerstone sites had already begun. "We are now leasing an additional site in Derbyshire which will enable us to increase capacity," he said.
Protein sales also fell by 2% to £538.6m in the last quarter, with operating profit for the division falling from £15.5m in Q1 2014/15 to £8.6m.
However, the business remained bullish over its "strong position" with leading customers on protein, which it cemented "by offering new products such as wings, which utilises more of the chicken".
It said it had also secured "major business wins in poultry and in red meat with new customers", the benefits of which would start to show over the rest of the financial year.
Singh said the company's £150m poultry investment programme was now "well underway" and would "revolutionise the supply chain", positioning 2 Sisters well for future growth.
Like-for-like sales for the branded division were up 0.2% to £101.3m, with operating profits up by more than 100% to £8.6m. The company said its investments in "quality and marketing" at Fox's Biscuits had helped it deliver strong performance despite the competitive environment, with sales up "substantially" over the quarter.
Total sales for the business fell by 3.5% to £778.3m during the first quarter, while like-for-like sales were also down by 2.3% to £787.9m. The food giant - which operates in the poultry, chilled and branded categories - also experienced a 17.7% decline in operating profits to £18.1m.
Singh remained upbeat about the company's prospects, pointing out performance was "in line with guidance" despite continued price deflation and currency headwinds. "Our focus on costs, efficiency, investment, innovation and deepening customer relationships remain paramount," he said.
Singh highlighted the "notable success" 2 Sisters had achieved in "category reviews and new product development, including poultry products, red meat, pizzas, wraps and frozen fish", in addition to successful innovation in its branded business with Fox's Biscuits and Goodfella's, which launched a sweet and gluten-free pizza earlier this year.
"We have the right strategy, a relentless commitment to great food, innovation and efficiency, and are building great relationships with both our major suppliers and customers," Singh said.