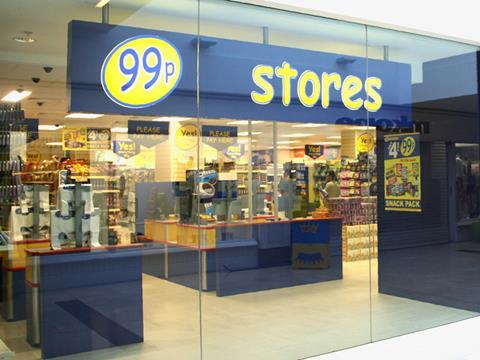 Losses at 99p Stores ballooned and sales went into reverse in the run up to Poundland acquiring the business last year, newly filed accounts at Companies House have revealed.
The business was hit by exceptional costs of £5.2m as it restructured its stores and distribution centre in an attempt to turn around weakening trading.
It led to operating losses of £10.2m in the year to 31 January 2015, compared with a small loss of £213,000 in the previous 12 months. Pre-tax losses came in at £11m, up from £734,000, and sales declined 2.5% to £361.3m as a result of the restructuring process.
CEO Nadir Lalani said the year was the first of a three-year plan and the changes were being implemented in a "very challenging market". Lalani had grown the business rapidly since setting up the chain in 2001, with sales swelling from £183m in 2009/10 to £370m in 2013/14.
Poundland agreed to buy the business and its 251 stores in February last year, but was soon embroiled in a lengthy process with the Competition and Markets Authority (CMA) to gain clearance for the deal.
Shares in the group plunged in November when Poundland eventually took control of 99p Stores and discovered its credit insurance had been lost, reducing stock levels and sending revenues backwards.
The new 99p Stores accounts also show net debt at the retailer increased £2m to stand at £23.5m at the year end.
"This was a year of change in which new initiatives were introduced such as refits, new products launches, store navigation, rebranding and investment in staff and infrastructure, focus on customer service and investment in store fabric," Lalani said. "One major initiative was the introduction of new procedures and processes in the distribution centre which had greater disruption than expected."
He added the losses were partly mitigated by "robust cost controls and savings".
As The Grocer reported in January, Poundland has also been slapped with fines totalling £400,000 as a result of "rat-infested" stores it inherited from 99p Stores.
Poundland CEO Jim McCarthy said in a trading update last month that the conversion of 99p site had commenced "well and at pace". He added that the deal was expected to boost its EBITDA by at least £25m. The group has rebranded 100 99p sites under the Poundland fascia so far.
A Poundland spokesperson said today: "This was principally a property deal for Poundland. We remain really pleased with the progress of the integration and conversion programme."