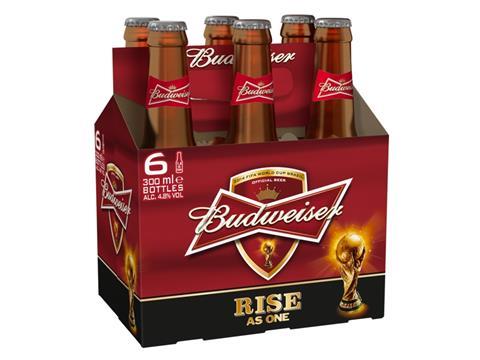 Beer sales during the World Cup boosted the UK fortunes of Belgian brewery giant AB InBev.
AB reported UK sales up 13.5% in the second quarter ending 30 June, contributing to 8.1% growth in the first half of 2014.
Inge Plochaet, BU president, AB InBev UK said the company was delighted with the UK performance. "The strong performance of Budweiser was supported by its position as official beer sponsor of the FIFA World Cup 2014 which included the promotion of a limited edition gold aluminium bottle featuring the iconic FIFA World Cup Trophy," she said.
Stella Artois also saw success in the first half of the year, increasing its market share and volume, boosted by being the official beer and cider of The Open Championship and the official beer of Wimbledon.
The World Cup boost had provided opportunities to build brand equity, not just in Brazil, but in markets around the world, the company said, and this was likely to be reflected in the full-year results.
Total beer volumes across all regions grew 2.4%, driven by growth in Brazil, China and Mexico. The company's three global brands - Budweiser, Corona and Stella Artois – saw 7% volume gains. Non-beer volumes were up 4.3%, contributing to total volume sales growth of 2.6%.
However beer volumes across Europe fell 4.8%, while sales in the US were also disappointing, with volumes falling 0.8%.
Ebitda grew 10.1% over the year, with total sales revenue up 6.8%, and revenue per hl growing 4.7%, which the company attributed to revenue management and premiumisation. Lower commodity prices and efficiency gains helped cost-of-sales performance, along with a US$223m adjustment to the liabilities of a US post-retirement healthcare plan.
In Mexico, AB InBev's ebitda was up 31.3% in the first six months of 2014, with revenue up 3.6% and volumes increasing 1.2%. World Cup sales contributed around 1.4 million hl of incremental volume sales in Brazil, where revenue grew 15.3%, on volumes up 9.1%. China also saw sales growth of 15.6%, on volumes up 6.5%, boosting beer market share to around 15.4%.
Meanwhile the US market saw only sluggish growth, with flat ebitda, and revenue rising only 0.9% as volumes declined. However, the company remained optimistic for the outlook for the full year, arguing that a stronger economy in the US was likely to lead to improved volumes. It also expects further strong sales in Mexico and Brazil and "solid volume growth" in China, but revised its distribution costs, and said increases in sales and marketing investments were likely.