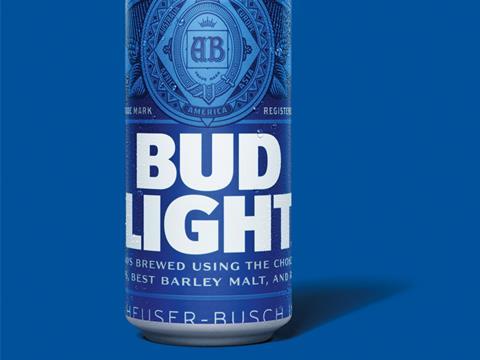 AB InBev's UK volumes grew by double digits over the first quarter of 2017, bolstered by the launch of low-calorie Bud Light in March, its latest figures reveal.

Global volumes dropped -0.5%, but revenues were up 3.7% (organic) compared with the same quarter in 2016, driven by "strong" premium brand performance and revenue management initiatives, according to its Q1 trading update.

UK growth was underpinned by the return of Bud Light, rolled out across UK retail in early March, it claimed. Since its launch, Bud Light's UK value has topped £4.9m, with volume of 29,987 hectolitres [Nielsen 52 w/e 22 April 2017].

The relaunch of the low-calorie beer, 16 years after it was withdrawn from the UK market due to poor performance, aimed to "reinvigorate the standard lager category" said ABI North Europe president Jason Warner.

It was backed by a "heavyweight marketing campaign" that aimed to "build distribution rapidly across all trade channels, driving strong trial and repeat with consumers" he added.

UK volumes of Budweiser, Stella Artois and Corona were all up over the period, with Budweiser further boosted by a partnership with the FA Cup and Stella Artois' performance reinforced by a charitable campaign with Water.org and Matt Damon, according to Warner.

"We are very pleased with our UK performance for the first quarter of the year, continuing strong momentum from 2016," he said.

Elsewhere, ABI enjoyed "great" growth in China, with revenues up 11% and its market share rising above 20% in the region. The Chinese New Year had offered "excellent opportunities" to reach consumers, especially for Budweiser and Harbin Ice, which both grew by double digits, ABI said.

Mexico had also provided "excellent" results for the company, with revenue growth in spite of "macroeconomic uncertainty and volatile exchange rates", it added.

However, ABI performed "poorly" in its biggest market the US, where it is "underperforming its rival Molson Coors" despite a relaunch of Bud Light in Q1, said SocGen analyst Andrew Holland.