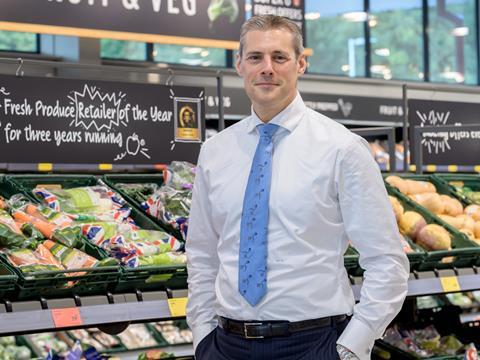 UK & Ireland CEO Matthew Barnes has admitted Aldi is "not immune" to the pressure of inflation and pledged to put an even greater focus on reducing costs.
Barnes was speaking after Aldi posted a 13.5% increase in sales to £8.74bn in the 2016 calendar year, a jump of £1bn. However, investment in growth and price meant operating profits fell 17% to £211.3m.
Maintaining leadership on price remained its biggest challenge, said Barnes, particularly with the devaluation of the pound.
"We are not immune to pressure from inflation and we have had to increase prices," he explained. "But we will never, ever be beaten on price. This year we are re-accelerating our focus on reducing costs. We are a lean business and considerably cheaper to run than 20 years ago."
Aldi said its sales and market share had more than doubled in less than four years and winning over one million customers from rival supermarkets meant more than half of UK households (15.4 million customers) now shopped at its stores.
The group did not split out the proportion of sales growth attributable to store expansion, but Barnes said its like-for-like sales had been strong. "Our like-for-likes have accelerated this year and even if you strip out inflation they are very strong."
One of the driving factors of like-for-like growth was the conversion of stores as part of its Project Fresh initiative, which Barnes said was delivering sales uplifts in the high single digits. "When you consider that growth is on top of the strong sales we already have in our stores then achieving growth of between 5% and 10% is very significant."
Aldi is to convert 150 stores to the new format next year, taking the total number of converted stores to 250 by the end of 2018.
Aldi is now the UK's fifth biggest supermarket with a 6.9% share of the market. Its best performing categories were its "specially selected range of premium quality products" alongside fresh fruit and veg, fish and meat.
The retailer, which operates 726 UK stores, plans to open a further 70 new stores in 2018 as part of its plans to reach 1,000 by 2022.
However, headline profitability was affected by the £450m-plus of capital expenditure in opening new stores and improving its distribution centres in the UK and Ireland, bringing total investment over the past five years to £2bn.
Aldi said future capital expenditure plans remained entirely unaffected by the UK's decision to leave the EU and that it expects to invest £459m during 2017.
"These results and our strong performance during 2017 mean we are confident and excited about our future plans. We continue to do what we have always promised - invest in our prices to ensure Aldi customers enjoy outstanding value, always," said Barnes.
"Our growth is accelerating, thanks to the hundreds of thousands of new customers switching their shop to Aldi. This is happening right across the UK and is all down to a simple, straightforward commitment - products comparable to the leading brands and supermarket premium ranges at the lowest prices in Britain.
"We're doing everything we can to insulate customers from those cost increases, making sure our prices are the lowest in the UK, every day of the year.
"At the same time, we've been improving the quality of our range and introducing the new products our customers have asked for. The result is a carefully selected range of exclusive own-label brands and award-winning products."