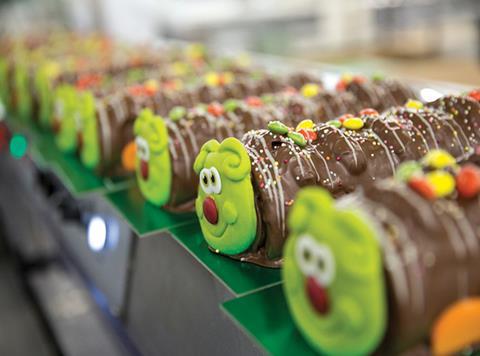 Top story
Full year sales at baked goods manufacturer Finsbury Food Group (FIF) dropped 3.4% as it was impacted by bakery closures and declining overseas sales.
Revenues at the Thornton's and Disney cakes manufacturer dropped to £303.6m for the year ending 30 June 2018.
The company said it was impacted by the closure of bakeries in the first half of the year but is "confident of delivering profits in line with market expectations".
Despite the overall sales drop, the retail and food service supplier recorded like-for-like sales growth of 2.4% on the prior year to £290.2m.
The group's core UK bakery division drove like-for-like growth, as it jumped 2.8% for the year, while the group's 50% owned European business recorded a 0.7% like-for-like decline.
The company has "done well to recover from cost pressures" despite a challenging period with "unprecedented commodity and labour inflation", it said in its trading statement.
Operational efficiencies and price increases have driven like-for-like growth, the company added.
The outlook remains challenging, it said, but the company's board reiterated its desire to invest in "innovation and efficiency, to continue to deliver growth and improved shareholder value over the period ahead".
The company showed a "resilient" performance amid inflation across the market, commented John Duffy, chief executive at Finsbury Food Group.
"We are pleased with the resilient performance of the Group in what has once again been a period of market-wide inflationary pressure, illustrating that the work and investment undertaken in prior periods has continued to bear fruit," he said.
"The Group is robust, well diversified and in a strong position to continue to deliver on its strategic objectives in the period ahead."
Morning update
Unilever (ULVR) has entered talks with its second largest shareholder as part of a shareholder charm offensive ahead of plans to abolish its UK headquarters.
Sky News reports that the Marmite manufacturer has entered discussions with the Leverhulme Trust – a trust set up by one of the group's founders – regarding the unification of the company to a single entity in the Netherlands.
It was reported last week that top five shareholder Nick Train warned fellow investors about the impact of the forced selling of shares ahead of the planned headquarter move.
The trust comprises of former grandees from the consumer giant and is understood to carry weight inside and outside the company.
It has been a fairly quiet morning elsewhere today, but the markets have been already busy fluctuating, but are currently only down 0.02% to 7,660pts amid concern over slow growth in China.
In the sector, this morning's early risers include Nichols PLC (NICL), up 2.3% to 1,509p, Stock Spirit Group (STCK), up 1.3% to 231p, Just East (JE.), up 1% to 849.2p and CARR's Group (CARR) up 1% to 150p.
This morning's early fallers include Finsbury Food Group (FIF), where declining revenues have resulted in a 3.9% drop to 110.5p, Glanbia (GLB), down 1.6% to 15.2p, and Wincanton, down 0.8% to 269.4p (WIN).
This week in the City
This week kicks off with the Annual General Meeting of Cathedral City producer Dairy Crest (DCG) on Tuesday.
Further afield on Tuesday, Johnson & Johnson (JNJ) will be revealing its half-year results, and it will be hoping for some positive news after being made to pay $4.7bn in damages to 22 women claiming its talc products caused ovarian cancer.
French supermarket group and Ocado (OCDO) partner Casino Guichard Parrachon (CO) will also be releasing its quarterly figures on Tuesday.
Wednesday's star attraction is the Premier Foods (PFD) AGM, when shareholders will vote to decide the fate of current CEO Gavin Darby.
Over the last month, second largest shareholder Oasis Management has called upon other investors to oust the boss, describing his tenure as "five years of failure".
Agricultural giant Carr's Group (CARR) is also set to make a trading announcement to the markets on Wednesday.
Unilever (ULVR), which has had its own shareholder problems amid plans to headquarter in the Netherlands, will release its Q2 results on Thursday.
On the same day, Vimto maker Nichols (NICL) will make its own interim results announcement. Hilton Food Group is also set to make a trading announcement.
Later in the day, Philip Morris International (PM) will also update people with its interim figures as it continues to battle against falls in cigarette usage.
On Friday, French booze manufacturer Remy Cointreau (RCO) will release its first quarter results.