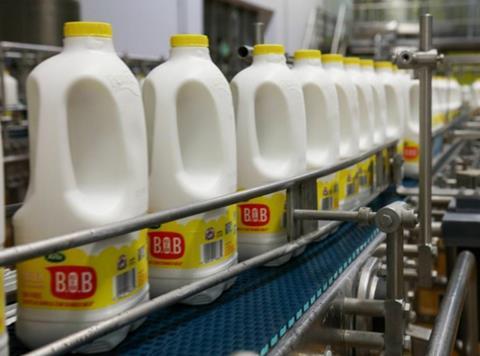 Arla Foods saw overall revenues drop by 5.3% in the first half of the year amid declining European milk prices.

Revenues dropped to €4.9bn in the six months to 30 June according to the dairy co-op's interim results, compared to €5.1bn in the corresponding period in 2015, with increasing milk volumes across Europe placing downward pressure on milk prices throughout the period.

"In a very difficult market environment, we have continued to improve the quality of our business by relentlessly pursuing our strategic direction," said Arla Foods CEO Peder Tuborgh.

"Our dairies have effectively processed 119 million kg of extra milk from our owners, and our commercial teams in all markets have proactively ensured that this extra volume has been sold into retail and foodservice channels, avoiding it being used for the production of less profitable commodity products."

Despite a drop in overall revenues, the dairy co-op's branded products performed well, with volume sales up 6.1% in the period due to investment and NPD, while UK volumes rose by 1.5% year on year thanks to strong growth across Lurpak, Castello, Arla Lactofree, Arla Skyr and Arla Protein, it said.

Arla also saw year-on-year volume sales of its Skyr Icelandic-style yoghurt grow by 42.9%, while Arla Protein enjoyed a 72.8% volume growth.

"In the UK, we have driven growth through our portfolio of branded products, which include our three key global brands Lurpak, Arla and Castello," said Arla Foods UK MD Tomas Pietrangeli. "We've also launched a range of products which are performing well and which we are confident will positively impact our full-year performance."

In the first half of 2016, Arla's NPD included the launch of Arla Best of Both in January, followed by Arla Skyr yoghurt drinks; Arla Protein Snack Pots and Cottage Cheese; Lactofree Natural Yoghurt; Arla Cravendale 250ml; and Arla Big Yogs for kids.

"For the rest of the year, we will focus on implementing the key principles of our newly launched UK strategy for 2020, where we will continue to champion British dairy. This, in turn, will help generate greater returns for our farmer owners," Pietrangeli added.

Arla outlined its new strategy in July, which plans to add £120m to the value of the brand over the next four years. By the year 2020 the business hopes to be worth in the region of £400m as it aims to become the "champion of British dairy". The plans included commitment to spend at least 10% of net revenues in branded NPD, and a minimum of 25% of its marketing spend on digital.

Arla expects a more stable market in the second half of 2016, with milk volumes flattening in Europe and market prices levelling out. Revenues for the full year are forecast to be €9.5bn-9.8bn.