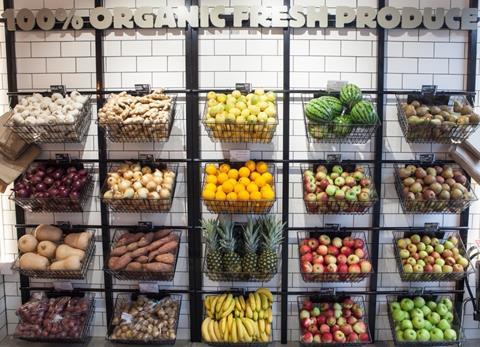 London-based organic and natural foods retail chain As Nature Intended slipped into the red last year ahead of its acquisition by Planet Organic, announced last week.
The seven-strong chain, owned by Caroline Gooding – the daughter of Iceland founder Malcolm Walker – before the Planet Organic sale, registered a pre-tax loss of £486k in 2019 after posting a profit of £155k in the previous year.
Sales in 2019 increased 5% to £10.3m, largely driven by the re-opening of its Balham store following an 18-month closure during a site redevelopment, and the launch of a new smaller format concept store in Dulwich.
However, the accounts state that it has seen an overall decline in customer numbers and like-for-like sales.
In particular, it said sales continued to be "challenging" in its Marble Arch store, primarily due to low customer footfall.
The accounts also state that head office overheads increased to over £1m annually, which the board deemed "disproportionate and unsustainable". As a result, a restructure was initiated towards the end of the year to reduce costs and "significantly streamline the management reporting structure".
"The board is confident that the changes rolled out during 2019 are already bearing fruit and we expect a positive impact from them throughout 2020," the accounts state.
News broke last week that fellow health and organic foods specialist Planet Organic had acquired As Nature Intended for a undisclosed sum.
Ben Thomson, Planet Organic chairman, said: "We believe the Planet Organic model will really suit the As Nature Intended stores. We are looking to change the offering across As Nature Intended stores to better mirror the success of Planet Organic sites such as Notting Hill or Islington."
In time, the As Nature Intended stores will transition into Planet Organic branding. However, it is understood rebranding is not a current priority as the stores focus on meeting significantly increased demand driven by the coronavirus outbreak.
Thomson told The Grocer last week: "In the short-term our primary focus is to make sure we are there to support our customers, and the customers of our newly acquired stores, through the coronavirus outbreak. We have very knowledgeable staff who can help answer questions on what foods, supplements and lifestyle changes we can make to help boost immunity and general wellbeing.
"In the longer term, this acquisition allows Planet Organic to grow quickly into locations we have already identified as ideal for our brand. With the addition of As Nature Intended stores, we will be the largest organic grocery chain in the UK, with plans to grow further as the popularity of healthy foods continues."
In January, The Grocer reported that Planet Organic itself also fell to a loss last year as its new private equity owner invested cash to fund growth.
The chain grew sales by 8% to £35m in the year to 31 August, but fell to an operating loss of £689k, having made a profit of £157k the previous year.
Planet Organic said profitability had been hit by £406k of costs from Scottish private equity house Inverleith buying a majority stake for around £15m in October 2018.
The bottom line was also impacted by investment, including the remodelling of existing stores and the new store in Queen's Park, London, in August 2019.