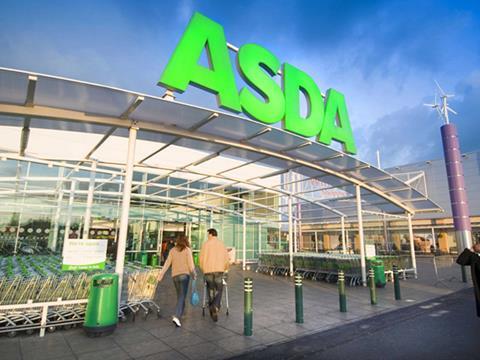 Asda has returned to sales growth for the first time since 2014, with this year's second quarter sales excluding fuel up 1.8%.
Although the period includes Easter trading, the first positive quarterly sales figure in three years was hailed as a milestone by the struggling supermarket giant.
Asda said the Easter trading period had been one of its biggest on record, with sales up 16% year on year. But even without the boom it would have seen 0.7% improvement in performance versus the same period last year.
Asda and its US parent Walmart hailed the results as a sign the supermarket was "headed in the right direction" with recent moves to improve the quality of its online operations, pricing and store experience.
Speaking to analysts today, Walmart president and CEO Doug McMillon said: "We're encouraged that the UK delivered positive comp sales.
"In June, I visited Asda to see the progress being made. Customers are responding to investments in price and store experience by visiting the stores more often and increasing their basket sizes.
"There's still much more to be done, but we're clearly headed in the right direction. While there, I visited stores as well as our Heston grocery delivery fulfilment center. I was impressed by how the team is focused on not only improving grocery pick-up and delivery from stores, but also from fulfilment centers in higher-volume environments."
Walmart chief financial officer Brett Biggs said customers had responded to investments in Asda's "value proposition".
"We continued to see sequential improvement in the business, including customer traffic and ticket," he said.
Asda CEO Sean Clarke added: "Our continued focus on delivering great value and service meant 275,000 new customers chose to shop at Asda in Q2, particularly during Easter, which saw us return to positive comp growth.
"Recognition should go to our store colleagues for the progress made from 2016 but we know we need to continue to up our game to be in the best shape possible.
"We will continue to work collaboratively with our suppliers to create the best products, make investments where they matter most to our customers, and ensure that we are fit for purpose in what remains a competitive market."
Earlier this month, Clarke vowed to continue investing in price cuts and improved service, indicating that stopping its profits plunging below a billion was a key part of Asda's turnaround mission.
However, the supermarket boss is understood to have ruled out a major onslaught against its supermarket rivals and the discounters on price, instead planning to concentrate on steady improvements in the basics of its core offer.
Last year, Asda's underlying profit fell 11.5% (compared with 1.5% in 2015) from £1.2bn to £1.01bn and like-for-like sales fell by 5.7%.