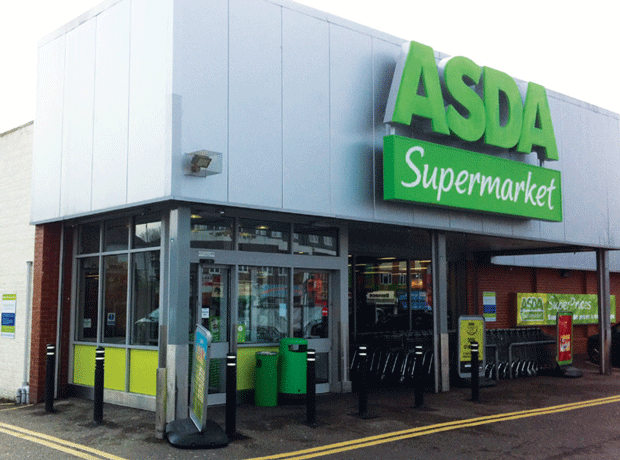 Asda has pushed profits past £1bn as it managed to avoid the massive one-off costs on property writedowns that have blighted its big four rivals, newly published accounts have revealed.
The 1.9% rise in operating profits to £1.01bn in 2014 came despite revenues falling 0.4% to £23.2bn as the grocer kept tight control of operating costs and booked just £4.3m in impairment charges on its property portfolio - down from £14.8m in 2013.
This is in stark contrast to the combined £6bn+ that dragged Tesco (£4.7bn), Sainsbury's (£628m) and Morrisons (£1.3bn) into the red in their most recent financial years.
Asda CEO Andy Clarke told The Grocer in July he had made a conscious decision not to chase space at any cost. "A lot of real estate was being acquired at what we thought were unrealistic values. The benefit is we are not sat in the same position as our rivals."
Operating costs in 2014 reduced slightly, to £22.22bn, with the savings ploughed into fighting its corner in the intensifying supermarket price war. Asda spent £300m to lower prices of everyday items such as bread, milk and butter during the year as it sought to close the gap with discounters Aldi and Lidl. However, like-for-like sales fell 1%, compared with growth of 0.6% in 2013, and market share was down 0.1% to 17.1% [Kantar Worldpanel 52 w/e 4 January 2015].
The pressure has mounted on Clarke since the year end, with a 2.6% slump in like-for-like sales in the fourth quarter of 2014 widening to 3.9% in the first three months of 2015 and to a historic low of 4.7% in the second quarter.
Asda opened 17 new stores in 2014 - 11 superstores, five supermarkets and one standalone fuel station - and is planning to open a further 17 stores and refurbish a further 62 in 2015 at a cost of £600m.