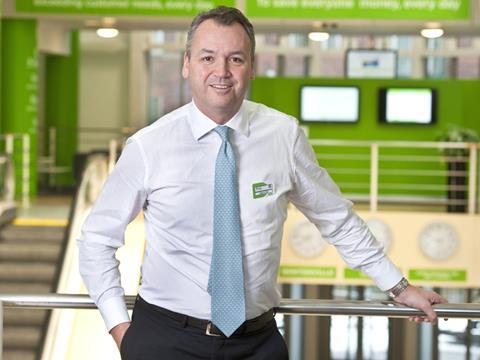 Like-for-like sales at Asda have fallen by -4.5% in the third quarter as the supermarket price war, food price deflation and the continued growth of the discounters all continued to take a toll.
The performance in the 13 weeks to 30 September represented a marginal slowdown in the rate of decline from the -4.7% fall in the second quarter, which was the worst result in the supermarket's history. CEO Andy Clarke said the second quarter represented a "nadir" for the business and that there were "green shoots" appearing ahead.
Today at a press conference he added that the grocery market continued to be "very tough" for Asda, as well as its other big four rivals. He said the final quarter of 2015, including Christmas, would be just as challenging for all retailers.
Clarke also gave more detail on Project Renewal and confirmed that Asda was working with suppliers to review its range with a target of a 10% reduction in SKUs to "remove duplication but not choice", as revealed exclusively by The Grocer last week.
"There's no doubt this represents another challenging quarter," Clarke said. "Sales volumes remain under pressure from price deflation and the intensely competitive background remains throughout the food sector.
"Last month I launched Project Renewal, an 18-month programme designed to work parts of my five-year strategy harder to return us to long-term, sustainable volume growth. Increasing our focus on the core business means strengthening some areas while pausing activity in others, which will allow us to sharpen our customer offer and continue to improve operational efficiency.
"I'm confident that by reinforcing our offer we can further extend our price advantage over major competitors and close the gap against the limited assortment discounters – not only on price, but across range, service and quality."
As well as looking at ways to simplify its pricing and the customer shopping experience, Asda is also investing £600m to refresh 95 of its large stores.
"This is a logical and necessary adjustment of our existing strategy, to better address the immediate challenges and permanent changes the market is facing. It is a slow and costly process to reconfigure any business to meet fundamental challenges on this scale, but I'm clear that only businesses which are well positioned, financially strong and able to efficiently deliver what their customers want can be successful in this environment."
This morning, the latest Kantar Worldpanel market share data revealed that Aldi and Lidl have reached a combined 10% of the grocery market for the first time, as Lidl enjoyed a 19% surge in sales to £1.09bn in the 12-weeks to 8 November and Aldi's grew 16.5% to £1.41bn. Similar research by Nielsen showed the discounters' growth had contributed to the biggest year-on-year fall in the value of supermarket sales for more than a year.
Clive Black of Shore Capital said Asda was "clearly the laggard" of the big four supermarkets in the UK and was "materially under-performing the sector". "That said a sense of perspective is necessary and on a two-year basis Asda's relative trading performance is more robust," he added.
As part of Project Renewal, Asda is also putting the brakes on its plans for expansion into non-core areas such as click & collect and petrol stations, as well as slowing down its planned expansion in London. The retailer has also pulled back from participating in Black Friday this year, with Clarke predicting today that others would follow his lead next year.
Asda parent company Walmart also released third quarter figures in the US today. Revenues at the retail giant fell 1.3% to $117.4bn after being hit currency headwinds of $5bn. On a constant currency basis, sales were up 2.8%.