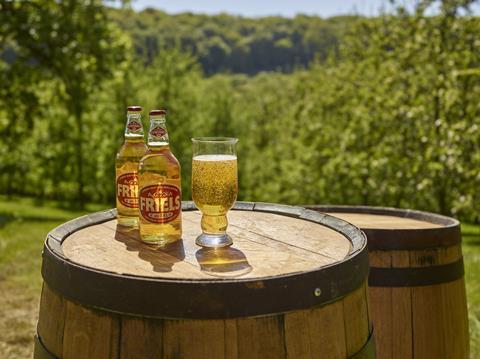 Profits have tumbled at cider producer Aston Manor despite sales rising 5% in the first year of ownership under French co-operative Agrial as one-off costs hit the bottom line.
Revenues for 2018 rose to £133.3m from £127.3m, helped by the hot summer weather and England's success in the World Cup.
Aston Manor's pre-tax profits however plunged 70% to £2.1m from £7.1m, as the business was hit by £1.8m one-off exceptional costs associated with its sale to Agrial, best known in the UK as the owner of salad supplier Florette.
Agrial – which on the continent owns several cider brands including Loïc Raison, Ecusson and Kerisac – acquired the Midlands-based cider brand last August.
In 2017, Aston Manor also benefited from a £4.3m profit boost on the sale of certain properties – the lack of which affected the brand's profitability last year.
EBITDA amounted to £5.6m after losing around £700k due to a national shortage of CO2 in the summer of 2018 which caused "significant disruption within the alcohol industry".
Before exceptional costs however, the company reported a 1.4% profit increase on an EBITDA basis.
"Obviously the costs associated with the sale of the business and the proceeds from a property sale were exceptional and treated as such," CEO Gordon Johncox said. He added that the business is focused on a "long-term strategy" of delivering a "strong performance".
In 2018, the cider market experienced several challenges, Aston Manor said, with the implementation of minimum unit pricing in Scotland and the collapse into administration of retailers Palmer & Harvey and Matthew Clark.
The current year is expected to be equally challenging, following the introduction of the government's increase of duty on high-strength ciders in February, despite the company being "well-prepared for the changeover".
"Contending with alcohol duty is something we are very familiar with and the change that came in this accounting period followed a consultation process and so was something we factored into our plans," explained Johncox.
Furthermore, the uncertainty regarding the mounting possibility of a no-deal Brexit "has been deeply disappointing in providing a lack of strategic direction for the company to manage", Aston Manor said.
The brand was monitoring the situation and working towards risk managing the impact of each potential scenario, with plans including collaborating closely with suppliers to ensure they are prepared and can manage the supply of goods.
Meanwhile, it supported the government "in its efforts to find a way forward that will continue to support the continuity of trade within the EU".
Johncox added: "Whilst we expect the future to offer up further challenges to contend with, continuing to invest in our capability and being determined in our focus on what is important to us should mean we are well-placed to build on the progress we are making."
Aston Manor earmarked £3.5m to finance the expansion of its production facilities. In 2018, it invested £3.4m in "various capital projects" to enhance manufacturing capacity and capability