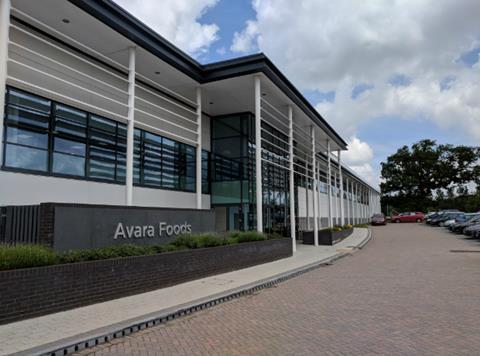 Poultry giant Avara Foods posted sales of more than £1bn during its first full year in business, though one-off costs, a Brexit-led increase in labour costs and competitive retail pricing all affected profits.
Avara – launched in 2018 as an £850m joint venture between Faccenda Foods and Cargill's UK fresh poultry business – saw turnover rise to £1.14bn during the 12 months to 31 May 2019, according to its latest accounts.
This compared with a turnover of £524m for its first accounting period – during the seven months to 31 May 2018. That figure was restated from a reported turnover of £476m this time last year, due in part to changes in the processor's accounting policies.
Pre-tax profits rose from £11.3m in the previous accounting period to £13.7m. However, profit growth was affected by £4m in one-off costs linked to the integration of the two businesses and a host of other challenges.
"Aggressive" price activity across chicken breast products increased top-line volumes but distorted carcase balance, Avara said, leading to weak wholesale prices and squeezing operating margins accordingly.
"Increased volumes [also] exposed further challenges to recruit, train and retain the people and skills required to support step changes in demand," the processor added, with labour cost inflation rising faster than prices.
This position was exacerbated by the ongoing uncertainty surrounding Brexit, it said, leading Avara to look at investing in automation projects to "deliver greater production efficiency".
However, the supplier stressed performance during the second half of the financial year and the current 2019/20 financial year had improved, while its gross profit margin for the financial year of 9.3% was only slightly down on last year's 9.4%.
"Our first full year as Avara Foods was always going to be a period of significant change and upheaval, and the wider economic environment was a test of our resilience," said Avara CEO Andy Dawkins.
"Despite this, even in a tough trading period, there are strong indicators that we are on the right path. The investment in our business, the support from our customers and the improving performance trend towards the end of the period are all reasons for us to be optimistic about our future."
Demand for poultry had remained firm, Avara said, with chicken retaining its position as the UK's favourite meat supported by "significant price activity" in the UK market.
Avara's partner customers had stimulated new, long-term investment (£15m) in facilities and automation, which improved productivity, increased capacity and supported range and volume increases across a wider range of added value categories, it added.
"We are clear our continued success is focused on providing our customers with the fresh, high-quality food at the affordable price that the UK consumer rightly expects," said Dawkins.
"That's why our strategy is focused on operating more efficiently through investment in technology, people and skills to deliver continued growth for Avara in the UK market. Clearly, to support this investment strategy we need clarity in the Brexit process and now is the time to establish the priorities of a post-Brexit food landscape."