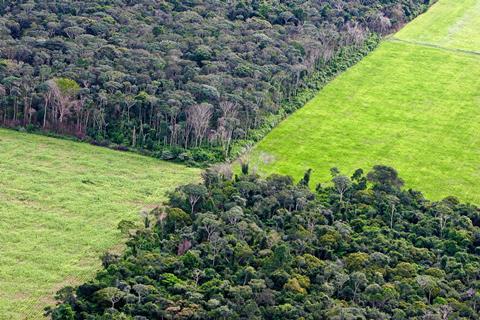 Chicken products available from major retailers and food outlets in the UK have been indirectly fuelling deforestation, a new report by Greenpeace has claimed.
The NGO's new Winging It report, published today (21 January), said soya from deforested areas in South American countries such as Brazil and Argentina was being used to feed poultry in the supply chains of a host of big high street names.
All of the mults, along with major processors 2 Sisters, Avara, Moy Park and Nomad Foods and food-to-go outlets like McDonald's, Subway and Nandos were named in the report, which called for increased traceability in poultry supply chains and a switch to plant-based diets.
Greenpeace also suggested the "deforestation footprint" of these firms was getting bigger due to low prices and promotions, as well as the perceived health benefits of swapping red meat for poultry.
"Consumers cutting red meat are clearly trying to do the right thing for the right reasons. But supermarkets and fast food restaurants are keeping them in the dark when it comes to the precious forests being destroyed to feed most of the chicken they sell," said Greenpeace UK forest campaigner Chiara Vitali.
"The simple truth is, we cannot continue to consume industrially-produced meat in the volumes we currently are. It's why we're calling on companies to set clear meat reduction targets and be transparent about where their animal feed comes from."
However, the British Poultry Council disputed Greenpeace's methodology.
The industry body said it believed the environmental campaign group had mistaken the overall statistics for soya use in the UK as being the same as that used "specifically for chicken production".
Whilst Greenpeace alleged that much of the three million tonnes of soya imported into the UK per year was required for use in British poultry feed, the BPC's own figures claimed the sector's actual usage was around 780,000 tonnes as soya constituted just 20% of the poultry sector's average feed input.
"This does not lessen the need to further reduce our environmental footprint, and we will strive for that together with anyone who shares that ambition," said BPC CEO Richard Griffiths.
"Decades of innovation mean that chicken production already has one of the lowest environmental impacts of all meats. We can and will improve on our performance and we'd welcome working with Greenpeace on this particular issue."
As part of the report, Greenpeace contacted 23 food sector companies to challenge them to demonstrate that the soya used in their animal feed was not driving deforestation.
It asked them to provide actual data on their meat sales and soya usage, with 12 providing a complete or at least partial response.
In response, the British Retail Consortium said the sector was "working together" to tackle deforestation.
"The BRC has publicly called on the Brazilian government to stop Amazon deforestation for soy production and are working with other stakeholders to ensure soya sources meet customer expectations on sustainability," said its sustainability policy advisor Leah Riley Brown.
Retailers not under the BRC's umbrella or those who wished to provide their own responses, including Tesco and Iceland, spoke of their commitment to cutting deforestation.
Tesco pointed to its £10m contribution to an initiative which aims to help end deforestation in the Cerrado region of Brazil, while Iceland MD Richard Walker referenced the supermarket's work on tackling palm oil's impact on rainforests as an example it "cared about deforestation".
The retailer had also set up a working group on soy last year to consider how to create a "meaningful policy with suppliers to ensure soy is deforestation-free", Walker added.
However, he stressed "this is an industry-wide issue, and change can only come from international action and collaboration by major brands".
Elsewhere, 2 Sisters Food Group said none of its soya came from land within the Amazon biome that has been deforested since 2006, in compliance with the Soya Moratorium. Moy Park said it solely sourced soy from "reputable international suppliers and certified schemes," while Avara Foods said it intended to source soya from "verified zero deforestation areas by 2025", whilst also investigating alternative protein sources for animal feed.