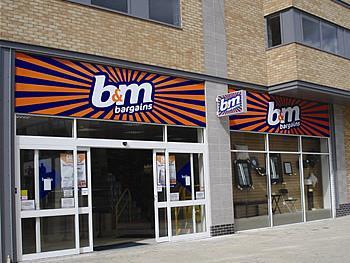 B&M Bargains (BME) is accelerating its store opening plans this financial year and now expects to add 80 net new outlets to its portfolio.
It follows an announcement in its maiden full-year results back in May that it was stepping up the aggressive expansion with revised guidance for 60 new openings expected for the 2015-16 year.
The value retailer revealed the new plans in a first quarter trading update which showed the company generated group revenues of £456.6m in the 13 weeks to 27 June, up 24.4% on the same period a year ago, with UK like-for-like growth of 1.1%. It represented a slowdown, however, when compared with the first quarter of 2014 when the business grew sales by 31.9% and like for likes by 6%. The UK business grew its sales in the quarter by 22.8% to £418.8m.
B&M said the positive like-for-like performance in the first quarter was a testament to the "robust and balanced nature of the business model", as it was achieved amid soggy conditions in a wet May which held back sales of outdoor seasonal products.
The group added that it also delivered positive like-for-like growth in the grocery and fmcg products category, despite the deflationary backdrop and competitive market conditions.
B&M is confident of "at least meeting" full-year market consensus profit expectations.
"I am pleased to report that the group has delivered another strong spring trading period," CEO Simon Arora said. "We have opened 25 stores in just 13 weeks, which is a record rate of openings, and testament to the hard work and dedication of our colleagues. As consumer spending improves, it is apparent that shoppers remain keen to spend with value retailers and we continue to win market share."
Particularly favourable current market conditions and specific opportunities in the commercial property market meant the UK business expected to open 80 net new stores in the current financial year, with a "strong pipeline" for FY2016-17. B&M now has 450 stores in its UK portfolio and has set itself a target to reach 850.
"We remain confident that future store expansion opportunities will allow us to increase market share in both the UK and Germany," the business added.
The performance of new UK openings over the quarter was "strong", with a good number of recent openings now being top quartile performers in the group, B&M said.
Two new format pilot stores in Germany traded in line with budget and the retailer expects to open more of the new format stores this year.
Shares in B&M, which is listed on the London Stock Exchange as B&M European Value Retail, jumped 10p on opening to 350p before settling back to 2.2% up at 347.6p. It represents a 77p premium to the 270p float price back in June 2014 and makes the company worth £3.47bn.
Analysts at Canaccord highlighted news of 80 new stores as the key announcement in the update. "B&M's domestic roll-out story has yet to miss a beat, unlike some of last year's IPO arrivals in the public arena," the firm said. "It plays strongly to the ongoing consumer propensity to 'value', with a highly flexible model in terms of store size and location.
"We remain fans of B&M's business model, but continue to struggle with the group's equity valuation."