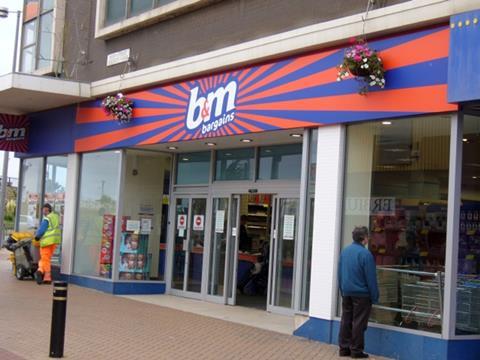 A near-30% jump in revenues to £1.65bn in its maiden year as a listed company saw analysts lining up to praise B&M Bargains.

The discounter opened shops at a voracious rate - the equivalent of one a week - with shoppers in the South proving to have just a keen an eye for a bargain as in the North. B&M also reinforced its growth potential by raising its UK store opening projections to 60 this financial year.

Analysts at Canaccord Genuity noted the overall strength of the full-year figures showed the organic rollout story was proceeding "full steam ahead". "B&M has at least eight years of growth ahead, which will be complemented by the international growth potential of its German acquisition, Jawoll," the broker said.

Investors proved equally enthusiastic, pushing shares in B&M European Value Retail 3.3% up to 328.5p - a 21% premium to its 270p June flotation price resulting in a market cap jump of £600m to £3.3bn. Its only real issue was that bold valuation, Canaccord added, with a group operating profit compound annual growth rate (CAGR) of 23% putting it in the premier league in the retail sector.

Numis, which has a target price of 350p for the stock, agreed the valuation was "demanding" but added B&M was a "rare case" in the sector where the earnings delivery would justify it.

Shares in Tate & Lyle fell 2.6% to 584p - with lows of 573p - as market and analyst sentiment soured following the group's full-year results. Adjusted pre-tax profits tumbled 30% to £224m for the 12 months to 31 March as sales plunged 14% to £2.7bn after a "very challenging" year.

Martin Deboo of Jefferies worried that despite the laying of firmer foundations, growth looked set to remain elusive after Tate warned the coming year would see no improvement in profitability.

Robert Waldschmidt at Liberum agreed: "Tate's 'Focus, Fix, Grow' strategy is incomplete with substantial work before it can deliver sustainable long-term growth."

Imperial Tobacco was one of the FTSE 100's biggest risers this week after receiving regulatory approval to buy four US cigarette brands and a line of e-cigarettes following the merger of tobacco giants Reynolds and Lorillard. Imperial was up 3.3% to a new 52-week closing price high of 3,393p on Wednesday.