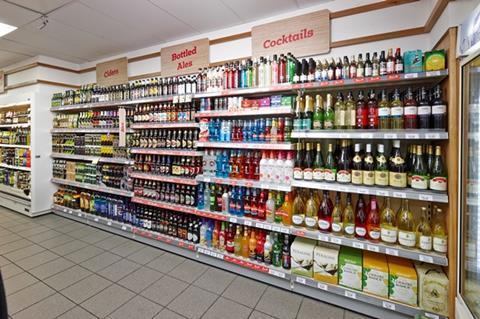 Conviviality Retail (CVR) boss Diana Hunter has said the group is in a "strong position" to grow in the coming years after the Bargain Booze owner increased revenues 2.4% to £364.1m.
The AIM-listed retailer also posted better-than-expected pre-tax profits of £9.7m - up 4.4% - in the 12 months to 26 April. Like-for-like sales were down 1.7% during the year, but underlying retail sales per store were up by 0.5%.
However, a Conviviality spokesman said the group was unable to comment at all on the reverse takeover talks currently ongoing with wine wholesaler Matthew Clark because of 'tight regulatory constraints'.
An outlook statement in this morning's London Stock Exchange announcement said: "During the year ahead we plan to further leverage our wholesale capability into new markets."
Shares in the Conviviality have been suspended since Thursday following inquiries from The Grocer into the potential £200m deal with Matthew Clark, which sells wines, beers, ciders and spirits to more than 18,000 pubs, restaurants and hotels.
"The results show the strategy is working," Hunter said this morning. "We set out two years ago to improve the prospects of the franchisees with the sole reason of ensuring if they were successful they would start to reinvests in our business and grow more stores. And that is exactly what has happened in the last year. We've had 21 franchisees open more stores and become multiple franchisees, and we've attracted 35 new franchisees as well."
The store estate increased during the period by 29 (4.9%) to 624. Hunter added that investment in the chain's wine offer helped pushed participation in the category up from 13.1% to 15.4% in the past two years.
Hunter said the group had focused in the past two years on improving its franchisees, range, assortment, brands and staff. "Now we've done all of that it puts us in a really strong position to grow in the years ahead."
She expects to expand the store estate by between 50 and 55 outlets a year for the next three years.
Conviviality increased its proposed final dividend up 5% to 6.3p thanks to the "strong" results, taking the total for the year to 8.3p a share.
WH Ireland welcomed the "positive" set of full-year results and said the investment in infrastructure, store base and staff had provided "very solid foundations" for growth across the franchise estate.
Analyst John Cummins added if the reverse takeover of Matthew Clark was successful it would be a "game-changing deal" for Conviviality, creating a £1.2bn group with EBITDA in excess of £45m in the first full year of ownership.
"Our initial view is that this could be a highly attractive acquisition for Conviviality, not least through the purchasing, distribution and back office synergies that could be achieved from such a deal."