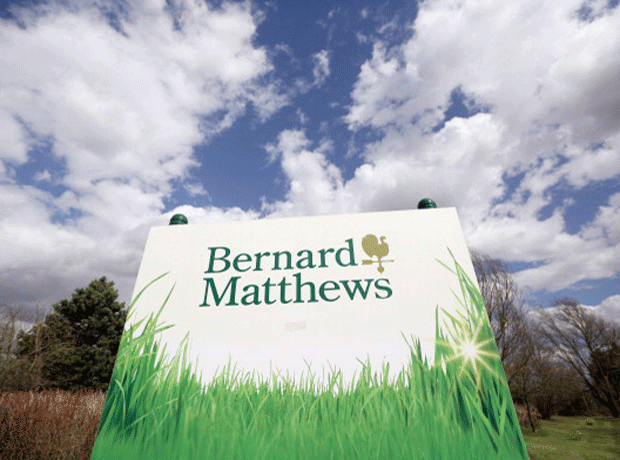 Turkey giant Bernard Matthews experienced a "significant improvement" in the performance of its UK business during the 12 months to 29 June 2014, despite a fall in revenues of £39.9m to £306.8m.
Accounts lodged by Bernard Matthews Holdings with Companies House this week revealed a sharp drop in operating losses before exceptional costs for the producer, from £11.7m in 2013, to £1.9m in 2014, while total pre-tax losses fell from £20.4m to £9.9m.
Losses for 2014 included a £2.1m exceptional cost for the closure of Bernard Matthews' Lincs Turkeys processing plant in Lincolnshire, which included £323,000 in redundancy payments, while the group reduced its overall headcount from 2,786 to 2,625 members of staff during the financial year.
Executive chairman David Joll said the business' financial performance had benefitted from the £20m-plus investment received by Rutland Partners in 2013, while costs described last year as "spiralling" by Joll, were brought under control through the implementation of "operational initiatives" such as headcount reduction, favourable feed costs and a rationalisation of its factory sites.
"Effective agricultural management controls and milder weather has led to improved and stabilised bird health versus the previous year," he added, while the reduction in the number of birds grown had eliminated overstocking issues seen in 2013, and had, combined with firmer market prices, improved commercial performance.
"As expected, our results have improved as we continue to go through a transition period and reflect the benefits of our on-going focus of returning the business to profitability," said CEO Rob Burnett.
"We have now set the strategic aims of the business which include the development and reinvigoration of the branded business, continuing to partner retailers in developing Christmas turkey products and increasing the group's share of fresh and frozen contracts," he added.
In addition, a significant element of its strategy was to build on its existing green energy projects to "give us a clear leadership position in this field," said Burnett, with the company aiming to be entirely energy self-sufficient by next year, and carbon neutral by 2020, with the potential to add more than £1m to its bottom line every year from energy projects.