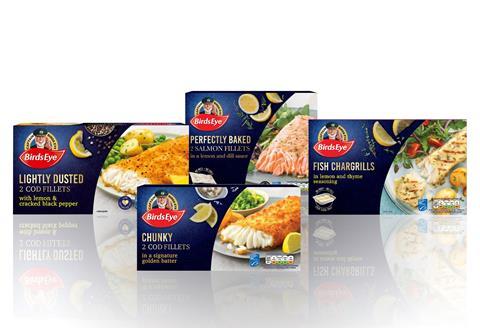 Birds Eye sales powered ahead of expectations as shoppers stocked up their freezers during lockdown.
The group, owned by frozen giant Nomad Foods, said revenues had increased more than planned in the second quarter of 2020. In newly filed accounts at Companies House, it put that down to the effect of stockpiling at the peak of the pandemic.
Revenues in the 12 months to 31 December 2019 also rose for the third consecutive year, the accounts showed, up 12.8% to £486.1m.
Pre-tax profits jumped 11.4% to £12.7m on the back of the growth.
Nomad, which acquired Birds Eye as part of the €2.6bn Iglo Group deal, has transformed the fortunes of the brand since taking ownership, with significant investment in marketing, supermarket promotions, improving the products and innovation.
In 2019, growth was helped by the launch of the Chicken Shop and meat substitute plant-based Green Cuisine range, with the latter bringing new consumers to the brand.
Nomad also integrated Goodfella's and Aunt Bessie's, which it snapped up in 2018, into the Birds Eye group on 2 November 2019.
"2019 was a year of integration, aligning processes, policies and commercial plans to leverage scale and unlock synergies," Birds Eye said in the Companies House accounts.
The frozen category has been one of the big winners of the pandemic, growing value by 19.4% at its peak [Kantar 12 w/e 14 June 2020], which has slowed slightly in the latest period to 13.6% [Kantar 12 w/e 6 September].
Frozen is now worth £6.9bn after an increase of 9.7% in value in the 52 weeks ending 6 September [Kantar].
Birds Eye owner Nomad is also benefiting, with revenues up 11.4% to €599m (£541m) in the second quarter of 2020.
The group also announced it was returning $500m (£380m) to shareholders and accelerating investments in the expansion of the plant-based protein sub-brand Green Cuisine.